Streets of Antalya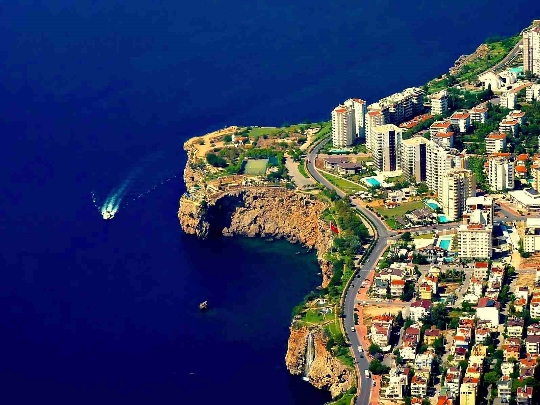 The resort city of Antalya is perhaps one of the most famous and popular holiday destinations among domestic tourists. Which is not surprising at all, because visiting this corner of Turkey you can get a lot of positive impressions, leaving here a very insignificant part of the family budget. Rest here is a rich cultural program, quality service and very reasonable costs, so the streets of Antalya receive more and more tourists every year.
Travelers who have visited excursions organized by tour operators often complain that they saw almost nothing except for a couple of beautiful sights and shopping districts. Therefore, for a closer acquaintance with the life of the city, it is better to explore it yourself, starting from the central streets.
Ataturk street
The main street in the city. The best cafes, restaurants and hotels are located here. Also, this place is very picturesque and daytime walks here can bring a lot of pleasure. It is recommended to bring a good camera with you and be sure to take a photo as a souvenir.
Charampol street
A very popular place among tourists. In addition to a huge number of entertainment venues, it also attracts with the market of the same name, located at the intersection of Charampol and Sokullu streets. From here, rarely does anyone return empty-handed..
Gulluk street
The third shopping street on the list. It differs from the previous ones in that there are mainly small shops, and not large shopping centers, therefore prices are much lower. Every year the number of tourists visiting Gulluk Street is steadily increasing, because here you can buy not only outlandish souvenirs, but also clothes, as well as useful things in everyday life that will come in handy at home..
Kapala Yolu street
Like most other tourist destinations in Antalya, Kapala Yolu Street also boasts a huge number of shops and various entertainment venues. It is located within walking distance from the already mentioned Gulluk street..
For a long time it was interesting exclusively to local residents, however, recently it began to attract the attention of tourists. The prices are even lower here, and trading is very welcome. So everyone who has an extra day in stock, plus a fair amount of excitement and enthusiasm, can safely go here..
Photos of the streets of Antalya