Where to go with children in Antalya?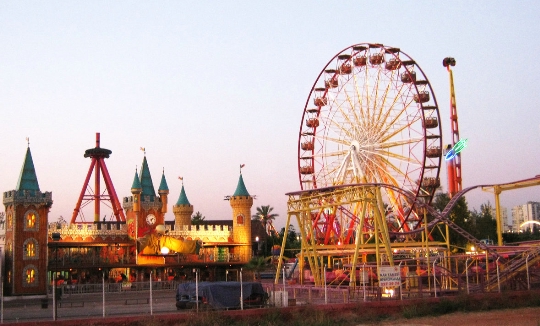 Family vacations in Antalya are very popular with Russian tourists. At this resort, you will find many activities for children of all ages. Where to go with children in Antalya, read this article.
Most popular activities for children
The cultural center of the city is the Konyaalti region. Acquaintance with its sights takes more than one day. Luna Park is located near the Migros shopping center. Opposite it is the Solar House, which supplies the nearby objects with the energy of the sun. This is a glass building with a variety of plants growing inside..
There is also a water park and a dolphinarium in the center of Antalya. Children are delighted with the Antalya aquarium, where all kinds of sea inhabitants are collected. It contains the most impressive tunnel in Europe. Stingrays, sharks and other representatives of the underwater world swim over the heads of visitors. The aquarium was opened not so long ago, but has already become very popular.
Near Antalya, there is a Jurassic Park, where you can meet life-size dinosaurs. The exhibits move and growl, which is why many children get scared at first. Dinosaurs are made of material that is pleasant to the touch and can be touched. The resort's best entertainment includes shows at the Dolphinarium. Programs lasting about 1 hour run in the morning and evening. For children and parents, there are seals, dolphins, belugas. A rich and vivid show evokes violent emotions in the audience..
City walks
Where to go with children in Antalya for tourists who like an educational vacation? To gain new knowledge, go sightseeing in the resort. The city has an Archaeological Museum, where you can see unique sculptures, sarcophagi, statues, icons. It will take at least three hours to get around its territory..
An interesting place is the Old District of Antalya. There are old buildings, narrow streets, shops with antiques. Not far from the Old Town, you will see the singing fountains. They dance and sing to different tunes every night. All this is accompanied by beautiful lighting..
While walking in Antalya, be sure to visit the picturesque Cam Piramit Park, located next to the Archaeological Museum. It is designed in the form of a huge pyramid, inside which conferences and exhibitions are organized. The park has a cinema alley with posters of the best Turkish films, ponds, fountains and cafes. A popular holiday destination in the city is Ataturk park, which stretches along the steep coast of the sea. There you will find many restaurants where you can taste the masterpieces of Turkish cuisine..
Photos