Water parks in Belek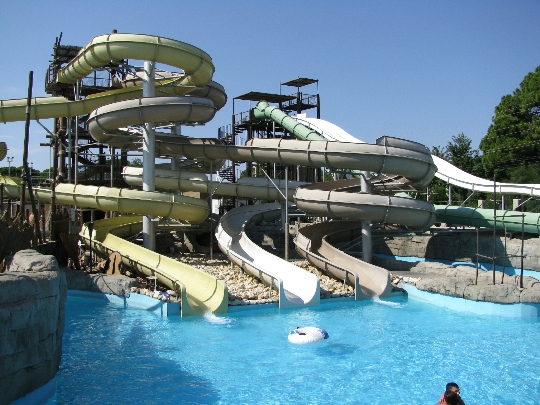 The entertainment program on vacation in Belek should include a visit to the local water park, stylized as Troy (there is a 25-meter Trojan horse on its territory).
Water park in Belek
Water park "Troy Aqua Park" has:
kamikaze slides "Zeus" and "Hera", "Tower of Menelaus" with 3 slides (length of slopes - 13.75 and 120 m), "Multislide", "Master Blaster", "Hydrotube", "Black Hole", " Fantome "(skiing from all the slides is carried out on inflatable rings - this is monitored very strictly), fountains, pools, in particular, with artificial waves and for surfing" Flow Rider ";
a kind of Greek trireme for children Achilles Trireme with small slides;
restaurant, bar, gift shop.
Prices: tickets for children (from 6 years old) cost $ 20 (up to 6 years old - free), adults - $ 35-40.
It is worth noting that a dolphinarium is located on the territory of "Troy Aqua Park" - here you can see the performance of walruses, dolphins and sea lions, as well as stingrays and sharks swimming in the aquarium. And those who decide to swim with dolphins should prepare for the fact that this entertainment will cost them $ 100.
Since on the territory of the water park you can find copies of weapons, shields and helmets of antiquity, as well as antique vases and a model of a chariot, do not miss the opportunity to take original photos..
Water activities in Belek
If you decide to stay in a hotel with a swimming pool, pay attention to "Rixos Premium Belek", "Belconti Resort Hotel" and others..
While resting in Belek, it is recommended to go to the park-reserve "Keprulu Canyon" - here you can not only admire the birds (barn owl, golden eagle, eagle), fauna (turtle caretta, fox, mountain goat) and flora (pistachio tree, cypress, eucalyptus), but also go fishing (catch trout), mountaineering and rafting on inflatable rafts along the mountain river Keprjuchay.
Beach lovers are unlikely to be disappointed - the resort has blue flag sandy beaches (the coast is surrounded by eucalyptus and pine forests). In addition to "lazy" relaxation, the essence of which is spending time on sun loungers or in bungalows with soft areas and pillows (this service is not provided in all hotels), travelers can go parasailing or windsurfing, ride a boat or jet ski.
If you wish, you can go to the city beach Belek Beach - those who want to relax on hammocks and benches, spend time on sports grounds, as well as at concerts and shows held here, in rare cases - and discos, flock here..
Well, if you decide to go diving, you can see underwater landscapes and underwater inhabitants when diving into the depths of the sea..
Photos