Airport in Istanbul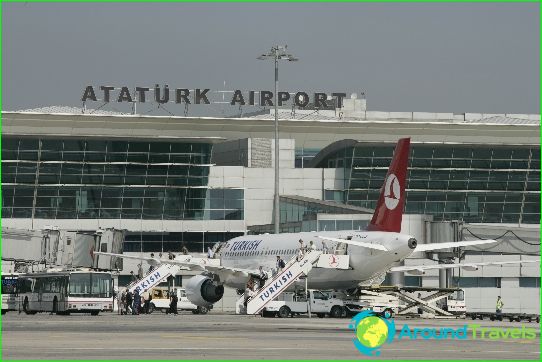 There are two international airports in the vicinity of Istanbul: Ataturk Airport and Sabiha Gokcen Airport, which opened later in order to unload the first. Istanbul Ataturk Airport is the city's first air gate. It is located in its European part, 23-24 kilometers from Sultanahmet Square, not far from the coast of the Sea of ​​Marmara. In the eighties, it was renamed in honor of Mustafa Ataturk, the first president of the Turkish Republic..
The terminal complex includes two terminals that operate with domestic and international flights. The main airport in Istanbul is connected with the key air terminals of Russia by direct flights that connect the capital of Turkey with such cities as Moscow (Sheremetyevo, Domodedovo and Vnukovo airports), St. Petersburg and Yekaterinburg, Rostov-on-Don and Ufa, Kazan and Sochi.
The modern international airport in Istanbul provides services at an excellent European level. On the territory of the airport there is a hotel, which can be accessed from any terminal, as well as in the surrounding area, not far from the air port, there are hotels of large international hotel chains. For the convenience of visitors on the territory of the airport there are coffee shops of such companies as Starbucks and Gloria Jean's, Burger King cafe, as well as a hairdressing salon, a pharmacy and a post office, bookstores and kiosks with periodicals. In addition, passengers can use the luggage storage service, as well as free Wi-Fi internet access..
The airport in Istanbul is connected to the city by a light overground metro line, which allows passengers to get to the Aksaray district in 30-35 minutes. In addition to the metro, the airport administration provides guests with a bus service that goes to various parts of the city at half-hour intervals. Not far from the airport there is a station of high-speed boats going from Bakiröy to Bostanji and Kadikoy districts. A slower but cheaper alternative to airport bus transfers are city lines. For those who prefer to travel by car, representatives of well-known agencies offering car rental services are located in the arrivals area of ​​the airport, and it is also possible to use taxi services..
Photos of Istanbul airport