Tours to Istanbul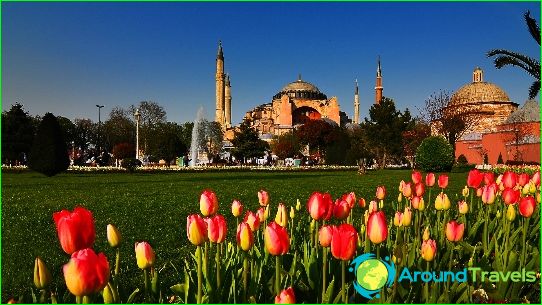 The largest and most colorful Turkish city was called differently in former times. It was called Byzantium and New Rome, Constantinople and Constantinople, and today Istanbul is one of the most attractive places in Asia and Europe, and its districts are spread out in two parts of the world at once. Tours to Istanbul are chosen by romantic natures who are keen on history, because this city is not at all like traditional Turkey, which a typical Russian traveler is used to representing..
History with geography
Europe and Asia in Istanbul are connected by bridges across the Bosphorus. It connects the two seas of Turkey - the Marmara and the Black. Once the capital of the Roman and Byzantine, Latin and Ottoman empires, the city has absorbed all the best and exotic from both Western and Eastern civilizations.
The metropolis is divided into 39 districts, and only two of them are geographically located in Asia. Most of Istanbul is the real Europe, despite the unusual names for the European ear.
Briefly about the important
Despite the European geographic coordinates of the city, certain rules of conduct must be followed during a tour to Istanbul. For example, visiting a mosque with a guided tour is possible only during hours when there is no service, and, moreover, access is not open to all of them..
The main architectural and cultural attractions of Istanbul are located in the Sultanahmet, Galata and Taksim districts. Given the large size of the city, it is best to book hotels in these areas. It is important to understand that the declared status or star rating of a hotel does not always correspond to European standards. Only by choosing a hotel of one of the well-known world chains, you can be sure of being in line with the stars..
One of the most interesting sights of Istanbul is Topkapi Palace. Its dimensions are immense, and therefore it is better to allocate a whole day for a detailed excursion. You can have a snack in one of the cafes on the territory of the palace.
Despite being in the subtropical zone, the city is influenced by the northerly winds, and therefore the weather there is not always stable. When planning tours to Istanbul, you will have to take into account that sharp fluctuations in thermometer columns can occur in spring and autumn, and about twenty days during the winter are characterized by subzero temperatures. In summer, the city is dry, but the heat can reach +30.
It is convenient to travel in Istanbul by "sea buses" plying between the center, suburbs and nearby islands.
Istanbul - the city of two continents

Photos