Areas of Istanbul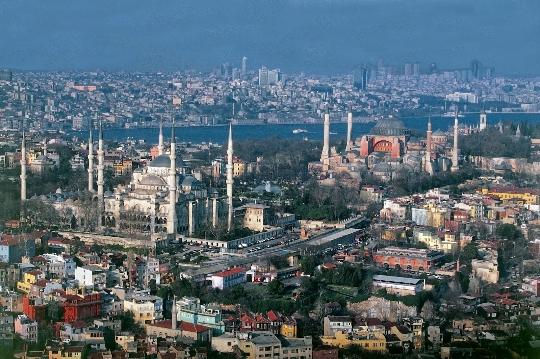 Take a look at the city map - you will see that the districts of Istanbul are represented by 39 districts. The names of all districts of Istanbul: Ataşehir, Adalar, Arnavutkei, Bakirkey, Bahçelievler, Besiktash, Avcilar, Bagcilar, Beylikduzu, Esenler, Basaksehir, Bayrampasha, Beyoglu, Beykoz, Catalcekaydzhey, Ghazyuktıkışıu, Kayuktıkırıkışı, Kırıkırıkışışı, Ghazıkırıkışış , Maltepe, Kartal, Kagithane, Kucukchekmece, Pendik, Sariyer, Sanjaktepe, Sultanbeyli, Silivri, Sile, Sultangazi, Tuzla, Shishli, Uskudar, Umranie, Zeytinburnu.
Description and attractions of the main districts of Istanbul

Beyoglu (includes several quarters, namely - Taksim, Kerakei, Galatasaray): travelers should take a walk along Istiklal Boulevard - here they will be able to visit Turkish coffee houses, antique shops and art galleries, as well as ride a "nostalgic tram". Among the attractions of Beyoglu are the Galata Tower, the Museum "Istanbul Modern", the Church of Anthony of Padua, the park of miniatures.
Besiktas: from this prestigious Istanbul region of the European coast, if you wish, you can go to the other side of the Bosphorus by ferry. Guests of the Besiktas district can see the Ortakoy and Pasha mosques, the Dolmabahce and Jiragan palaces, walk along the Barbarossa square, famous for the mausoleum of Emperor Friedrich Barbarossa and the Naval Museum.
Fatih: going on an excursion to this area of ​​Istanbul, guests of the city can admire the Hagia Sophia, Sultanahmet Mosque, Topkapi Palace, visit the Hippodrome, the Istanbul Archaeological Museum and local markets.
Beylikdüzü: this area offers to walk along the Gulpinar embankment, Pashabakhce street and the Botanical Park, shop at the Beykent bazaar.
Sisli: a walk along Mecidiekei Square, a visit to the Istanbul Cevahir shopping center and the Sapphire skyscraper (it has an observation deck at a height of 240 meters) deserves the attention of travelers.
Adalar (Princes' Islands): consists of 9 islands, 4 of them are open for tourists to visit - here you can enjoy a wonderful panorama, swim in the Sea of ​​Marmara and take a lot of "sea" photos. It is worth noting that when visiting the Adalar area, tourists will be offered a ride on horse-drawn carriages. And since the most popular island is Büyükada, guests can admire the Yucetepe hill (according to legend, having climbed the hill, you need to make a wish and it will come true), on the top of which there is a monastery and the Church of St. George.
Where to stay for tourists
Travelers looking for luxury hotels will be able to find them in the Beyoglu area (the cost of living in such places starts from $ 100-150). Are you not embarrassed by expensive apartments with a magnificent view of the city? You can look for a hotel in the Etiler quarter of the Bashiktas district. The Fatih area deserves a special mention - here you can find hotels that are suitable for tourists with different wallet thicknesses.
Photos of the districts of Istanbul