Attractions in Kemer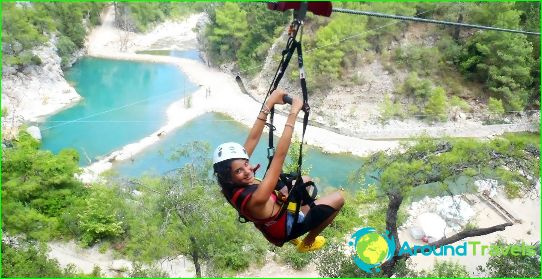 The Kemer resort is probably well known to every domestic tourist who has been to Turkey at least once. It is noteworthy that in almost every hotel, most of the staff understands Russian perfectly, which is certainly a plus. In general, until recently, this resort could not be called particularly lively, and the bulk of tourists were couples with children, wishing to splash peacefully on the beach and in the hotel pools, as well as to walk several times to local markets and shops. Now, the tourist infrastructure in the region is actively developing, and the attractions in Kemer are quite consistent with the capital.
Moonlight Park
Definitely worth a visit. It is located near the main harbor and covers an area of ​​over 55 square kilometers. On this territory are located: the cleanest beaches; dolphinarium; fabulous children's mini-town; tennis court; dozens of classic rides.
In general, for those who do not want to sour in their hotels, it would be better to come here right away. After all, admission itself is free, beach equipment is provided free of charge or for a nominal fee, cafes and fast foods are open here until closing, offering both exotic and classic European cuisine..
And if you wish, you can go on a trip by yacht or boat right from the dock of the park. In the first case, you can count on a long walk, during which periodically there will be breaks for swimming or fishing..
Aquapark "Water World"
An excellent modern water park without any special frills. There are slides of various heights, swimming pools for children and adults, reservoirs with a stream and artificial waves, a jacuzzi and much more. True, unfortunately, in recent years, local authorities have not bothered to update and modernize the water park, so it is somewhat inferior to those found in many expensive hotels..
However, in fact, the water park is really good, and there are more than enough entertainment and attractions here, so you should definitely visit. It works from 6.00 to 21.20, ticket price - $ 25.
Dino park kemer
In fact, this is a whole village, which is decorated in the style of the movie "Jurassic Park". Here and there, dinosaurs await travelers, wiggling and believably roaring, so the thrill is guaranteed. In addition to dinosaurs, there are also various shows, performances and themed games..
Photos of attractions in Kemer