Holidays in Kemer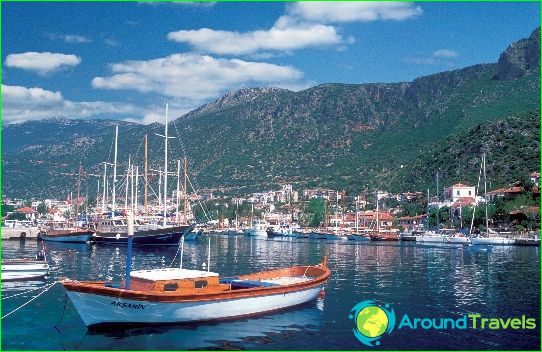 Rest in Kemer is an active pastime, sports entertainment, picturesque beaches, shops, bars and restaurants.
The main types of recreation in Kemer
Excursion: as part of excursion tours you will see the ruins of the ancient cities of Phaselis and Olympos, the ruins of Hadrian's gate, visit the Beldibi waterfall, visit the ethnographic park "Yoruk" and the reptile park "Eco-park".
Beachfront: you can relax not only on the city pebble beach (at your service - the opportunity to go snorkeling or windsurfing, order an excursion on yachts), but also on the sandy-pebble Moonlight beach (it is comfortable here even in hot weather thanks to orange trees and pines creating a pleasant coolness). Here adults can play golf or attend master classes at the diving center to subsequently dive into the sea, and children can frolic in the mini-club..
Active: tourists are offered to climb the steps carved into the rock to the top of Mount Yanartash; go on a jeep safari; on a yacht cruise; go rafting, surfing and diving; have fun at the Charlotte disco and at the "Aqua World" water park, famous for its swimming pools, attractions for the smallest and extreme slides; swim in the pool with dolphins at the Dolphinarium.
Event-driven: every summer Kemer hosts numerous dance festivals and music concerts (new events are announced before the start of the season). As for the annual events, you can visit the Phaselis Arts Festival and International Seabed Days with mass diving..
Prices for tours to Kemer
The best time for a vacation in Kemer is May-September. The most expensive vouchers are realized in the summer months, when lovers of passive (sunbathing) and active (snorkeling, water scooter riding) flock here. To save money, you can buy tickets to Kemer during the low season, which lasts from November to April. So, arriving in this Turkish city in winter, you can significantly save on air travel, accommodation and spa treatments..
On a note!
You can move around Kemer on a rented bike or car (for car rental you will need an IDL, a copy of your passport and a credit card). Crossing the road, pedestrians should be extremely careful - local drivers do not particularly observe traffic rules.
To make international calls, it is advisable to use payphones (you can buy special cards in souvenir shops or newsstands).
Experienced travelers are advised to bring from Kemer oriental sweets, coffee, the "Eye of Fatima" amulet, Turkish carpets and hookahs, cookbooks with recipes for Turkish cuisine, porcelain and ceramics, olive soap.
Holidays in Kemer

Photos of the rest in Kemer