Shopping in Kemer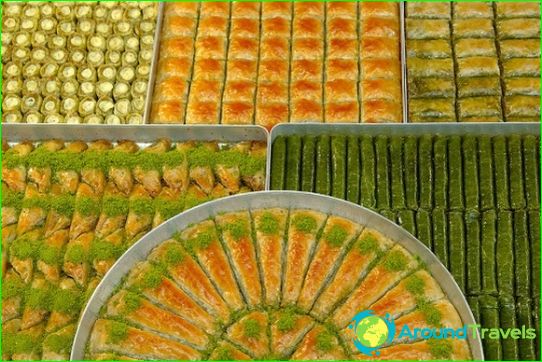 Kemer is considered the pearl of the Mediterranean coast of Turkey and an ideal destination for both relaxation and shopping. The city is located only 40 kilometers from the tourist and cultural center of Turkey - Antalya, therefore, in numerous shops and shops, the choice of goods is no worse than in the famous Turkish bazaars. If you have not yet decided what to bring from Kemer as a gift, make an approximate list of presents in advance.
What gifts to bring from Kemer:

Local souvenirs. In addition to the well-known and popular souvenirs that can be bought in any corner of Turkey, in Kemer you can find purely local ones - scarves and hats embroidered with a huge number of metal scales, decorated with multi-colored pompoms..
Books. Cookbooks that reveal the secrets of Turkish cuisine are no less popular among tourists from all over the world. Books have been translated into different languages, including Russian.
Handmade olive or laurel soap, which has a special aroma and perfectly moisturizes the skin. Of course, one cannot fail to mention pistachio soap, rose petal soap and scented soap, made in the form of various fruits and used to flavor the room..
Traditional ceramics and hand-painted porcelain. Such a souvenir will be a great gift for many friends or relatives..
Turkish sweets and coffee, Turkish tea. The selection of sweets is simply amazing - different types of baklava, including pistachio and chocolate, Turkish delight, dried fruits, rose petal jam, orange jam, honey and much more.
For shopping lovers, the question of what to buy in Kemer can cause a number of difficulties also because the choice of clothes and shoes is simply huge. It is worth noting that clothes from China are increasingly found in ordinary shops in small Turkish towns. Original Turkish brands are usually represented in large shopping malls.
Turkish manufacturers produce quality copies of famous brands, in addition, many brands place their factories here, which allows you to purchase their original products at a lower cost. The heart of any woman cannot resist a wide range of fur and leather products. Household goods are also popular - home textiles, bed linen, fabrics, carpets..
Holidays in Kemer

Photos of shopping in Kemer