What to do in Side?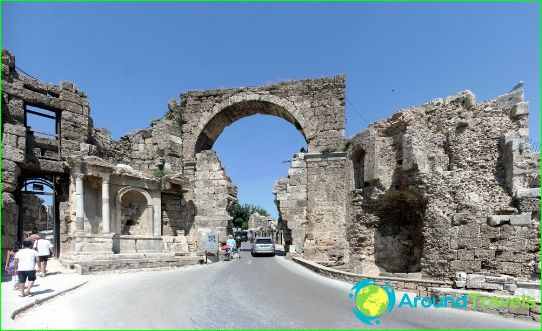 Side is a lively resort in southern Turkey, famous for unique attractions, numerous hotels, orange groves, white yachts and excellent sandy beaches.
What to do in Side?

Explore the ruins of ancient Side;
Go to the Side Museum;
Take an off-site excursion to the Manavgat waterfall;
See the walls of Side.
What to do in Side?
When you get to know Side, you should admire the ancient city theater, the ruins of the ancient temple of Apollo, the Agora, the Arc de Triomphe, the Nymphaeum fountain, aqueduct, well-preserved Roman baths.
Active tourists at their leisure can go rafting by visiting the Alpine Rafting Center - here daily trips are organized to places that are excellent for river rafting.
If you wish, you can go on a bike tour. Its duration can be several hours or several days. If you decide to go on a long excursion, you can cycle through the picturesque surroundings.
You can go on a jeep safari to see the local flora and fauna. And couples in love can stroll along the side promenade or go on a romantic cruise by renting a boat or boat. Fans of parties and parties can spend the evening in the nightclubs Alya, Apollo, Lighthouse.
Side is a great place to shop: in the Hadrian Group Side shopping center you can buy fashionable clothes and furs, in the Moda Show - leather and furs, in Cadaro Side Jewelery - jewelry, and in Onen - oriental sweets and spices.
Beach lovers should pay attention to the beaches on the east and west sides of the cape. The western beach is cheerful and crowded: here you can go parasailing, windsurfing, ride water attractions, water skiing, go on a yacht trip, and in the evening - come off at numerous discos. And the eastern beaches are less crowded, so here it is much quieter and calmer - here you can walk along the sand dunes, looking at the ancient ruins, and then relax on the sandy beaches.
In addition, you should take a closer look at the resort areas of Side - Colakli, Kizilot, Titreingel, Kumkoy, Manavgat. So, for example, in the Kumkoy area you will like a picturesque bay and sloping shores, and in the Colakli area - golden beaches and tourist complexes.
Side will appeal to lovers of history and excursions (the resort is an open-air museum), families with children (this is facilitated by sandy beaches, shallow sea, a gentle entrance to the sea, the presence of children's animation in hotels), couples in love (this is where Cleopatra and Mark Antony met).
Photos where you can go in Side