Provinces of Turkey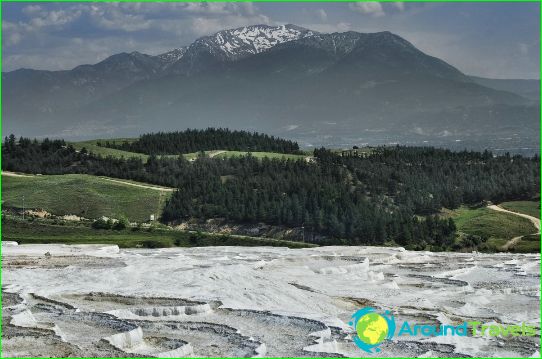 Sunny and bright, alluring and singing - this is all Turkey, which is ready to entertain and treat tourists from different countries and continents almost all year round. Many great civilizations lived on these lands, many provinces of Turkey still keep monuments and unique architectural structures..
First for rest
The resort of Kemer, located in the province of Antalya, took the first line in the popularity rating among experienced European tourists. The season starts in May, the last lazy tourists leave hotels and inns at the end of October.
First of all, guests are attracted by the picturesque nature of these places, the coastal strip is not too wide, some are bulk, but in them the seabed is covered with the same rounded pebbles. In Kemer itself, there are both types of beaches, and the sand and pebble beach was given the poetic name "Moonlight", since there are citrus trees on the coast, in the shade of which it is very pleasant to spend time.
Lost wonder of the world
This can be said about the famous temple of Artemis of Ephesus, from which only modest ruins remain. On the site of the ancient Greek city of Ephesus, now the Turkish Selcuk. Of the 127 tall columns, only one remained, and that one was restored from the wreckage. According to legend, a local resident set fire to the temple in order to become famous, but the glory turned out with a bitter scent of smoke and a lost miracle..
Both in Europe and Asia
The only city in the world, Istanbul, has managed to be located in two parts of the world at once. In this beautiful place, different traditions and cultures meet, intersect and intertwine in an amazing way. The old city beckons to the past of the country, to mosques and churches, old narrow streets and noisy oriental bazaars.
Two must-see sites are the Hagia Sophia and the Blue Mosque. The further program of stay in Istanbul by the tourist is drawn up independently, as options:
go to the Galata Tower to look at the city from above;
visit the Bosphorus, where the Black and Marmara seas meet;
find the edge of Europe or the beginning of Asia (which is more you want).
White fairy tale
Probably, every tourist who comes to Pamukkale for the first time will have such associations. Although its name is translated more prosaically - "Cotton Castle", this is due to the snow-white cascades formed from travertine and unique sources rich in calcium, which gives such a color to the surrounding area..
Those who come here on vacation will receive an additional prize in the form of treatment and rejuvenation with water from thermal springs. Tourists from other resort cities go here to see this Turkish miracle.
Pictures of the provinces of Turkey