Seas of Turkey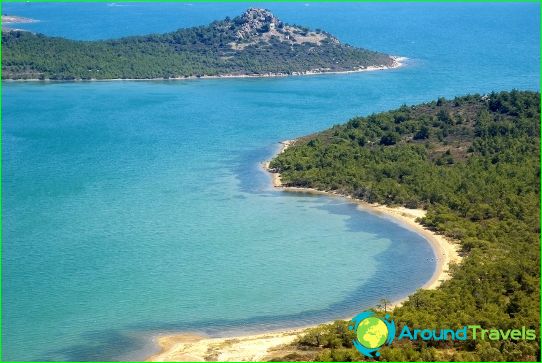 One of the most popular resorts, Turkey is famous for its beach holidays. The high season in the country lasts from late May to mid-October, and all the seas of Turkey during this period become an area of ​​increased attention of tourists from around the world..
What are the seas in Turkey?
If you ask any student who is fond of geography, which sea washes Turkey, the answer will be - "As many as four!". The state rightfully bears the status of a maritime power, as it stands on the Black, Aegean, Marmara and Mediterranean seas. The Turkish coastlines of the Mediterranean and Black Seas are approximately equal in length and are 1,500 and 1,600 km, respectively. The Black Sea is located in the northern part of the country, while the Mediterranean borders the Anatolian Peninsula in the south..
The most "resort" sea in Turkey is the Mediterranean. The water temperature in it during the holiday season averages +27 degrees. Numerous hotels are located on its shore, and the names of the most famous holiday destinations on the Turkish Mediterranean Riviera are known to all fans of high-quality and inexpensive rest. Antalya and Alanya await guests here, where bustling beaches, excellent restaurants and fun discos turn a vacation or vacation into an unforgettable adventure..
Which sea washes Turkey in the west? Aegean, which is essentially the eastern part of the Mediterranean and offers tourists an excellent vacation in new and already established resorts. On the Aegean Sea, fans of active beach life prefer to relax in Kemer, where historical and architectural sights coexist with the most modern hotels and nightclubs, and lovers of unity with nature choose relaxed Dalaman. The beaches of the Aegean Sea are especially clean, the air temperature in the local resorts, even on the hottest days, is slightly lower than in the Mediterranean Sea, and the water warms up to +25.
The Marmara is an inland sea between the Black and Aegean. It is bounded by the Bosphorus in the Istanbul region and the Dardanelles in the south. These straits connect the Sea of ​​Marmara with the Black and Aegean, respectively.
Interesting facts about the seas of Turkey

In the Black Sea, the lowest layer contains practically no living microorganisms..
The Sea of ​​Marmara is named after the island of Marmara, where the famous Turkish marble was quarried..
The depth of the Mediterranean Sea in its central part is more than five kilometers.
After swimming in the Aegean Sea, due to its high salt content, it is imperative to take a fresh shower..
Pictures of the coast of Turkey