London in 1 day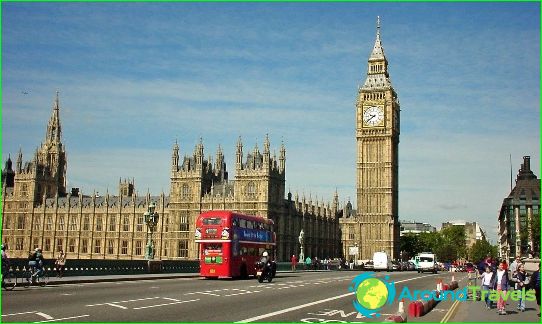 The most populated city in the European Union, the cultural and political center of Great Britain, London attracts tourists with enviable consistency. Travelers are not embarrassed by either the far from democratic London prices, or the complicated process of obtaining a visa. To see London in 1 day and fly further is a quite possible project with long air stops, and therefore it is worthwhile to draw up a plan in mind to inspect the most important and sights in advance..
UNESCO and London List
The city was founded by the ubiquitous Romans shortly after the beginning of a new era. Its global importance has always been quite significant, and in the period since 1825 for a whole century, London was considered the largest city on the planet. Unfortunately, the fire of 1666 destroyed all the early buildings, and only the legendary Tower remained in the memory of the Middle Ages. It is he who UNESCO adds to its list of World Heritage of Humanity, along with the Palace of Westminster, the abbey of the same name, the Temple of St. Margaret and the Greenwich architectural ensemble. It is this list of attractions that is quite suitable as a plan for walking around London in 1 day..
Westminster and its inhabitants
The administrative London district of Westminster is a place where architectural relics are literally wall to wall. The eponymous palace is the seat of the English Parliament, and the abbey has been a church for the coronation of British monarchs for several centuries. Westminster was founded in the 7th century and the area began to grow around the monastery that existed on this site.
The abbey is a Gothic temple, the foundation stone of which was laid in the middle of the 13th century. The church was under construction for more than seven hundred years, but its appearance remained unchanged from the very first sketch. In the building of Westminster Abbey there are icons belonging to the brush of the Russian master Fedorov. They can be seen at the beginning of the central temple gallery..
The temple has become the home of many celebrities. Here lie the ashes of Dickens, Chaucer and Samuel Johnson, who compiled an explanatory dictionary of the English language in the middle of the 13th century. In the 20th century, several sculptures were erected on the western façade of the abbey in memory of the martyrs. Among others, you can recognize the Grand Duchess Elizabeth Feodorovna.
At the crossroads of times
The Westminster area is famous for its Charing Cross, from where the streets diverge to Parliament and Buckingham Palace, Trafalgar Square and the City. Choosing any direction, you can adequately complete your walk through the capital of Great Britain and make the final conclusion that London in 1 day is too little, and therefore you will have to return to the city of fogs more than once.
Photos