London in 3 days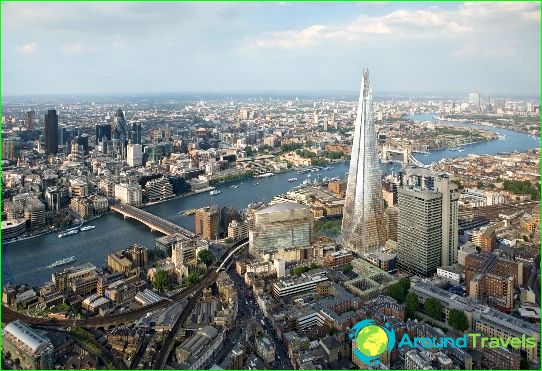 Over its almost two thousand year history, the British capital has grown from a small Celtic settlement into one of the largest metropolitan areas on the planet. To see London in 3 days means to ride on its huge Ferris wheel, stroll through the gloomy Tower, hear Big Ben hitting time and plunge into the fascinating world of shopping in one of the world's fashion capitals..
By districts and quarters
The old center of the capital of Foggy Albion consists of three districts that form the heart of London. For example, the City, where the Tower is located, is an architectural monument reminiscent of the medieval past. The castle is included in the UNESCO World Heritage List.
The Tower was erected in the XI century and its first construction, the White Tower, was the tallest on the islands for a long time. For several centuries the castle existed as a prison for high-ranking prisoners. Princes and kings, aristocrats and priests languished here. Today, the fortress houses royal jewels and operates a museum for tourists. Palace guards in luxurious camisoles are called beefeaters, and they are depicted on the labels of bottles of traditional English gin..
Skyscrapers on Dog Island
Modern and urban area in the English capital - Canary Wharf. A walk along it is quite worthy of being included in the London program in 3 days. This is the fastest growing area of ​​the metropolis, where more than one hundred thousand people come to work every day..
The exact opposite of Canary Wharf is Whitehall. On this street, leading from the Parliament building to Trafalgar Square, are the buildings of the Admiralty and the Banquet House. The construction of the latter dates back to the beginning of the 17th century, and the project of the building was developed by the architect Inigo Jones. Downing Street, adjacent to Whitehall, at number 10, is the residence of the Prime Minister of Great Britain, near which you can often see a cat coming out of the door. His official position is called "the chief mouse-cutter of the government residence," and his appearance hints that the modern "mouse-cutter" has assistants and even a personal chef..
Abbey on Thorny Island
Every person has heard of Westminster Abbey, even who has never even been to the city on the Thames. Going to London for 3 days, it is worth including visiting it in the excursion program. The Westminster area developed and grew around the monastery and from the 7th century not only a magnificent abbey building, built in the Gothic style, but also a palace for parliamentary sessions and a school, which is known far beyond the British Isles, appeared here..
Photos