Holidays in the UK in October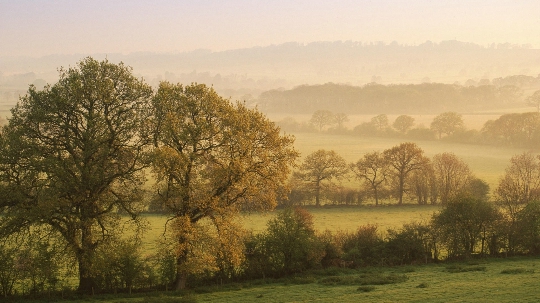 Weather conditions in October are very changeable, so it is impossible to predict what the day will be..
In London in the daytime the air warms up to + 16 ... 17C, and by night it gets colder to + 13 ... 14C. It is important to take into account that the urban area has a unique microclimate, therefore it is always warmer within the city than outside. It is already cool in Liverpool in October, because the temperature per day fluctuates between + 9 ... 11C.
When traveling to England, it is recommended to take a windbreaker and a warm sweater, rather than study the weather forecasts. A properly designed wardrobe will allow you to enjoy the upcoming vacation. In addition, cultural leisure will surely delight you.!
Holidays and festivals in England in October
Holidays in England in October is a unique opportunity to visit interesting festivals. So, what activities deserve the attention of tourists?
In early October, Cheltenham, England, hosts the Literary Festival. It is part of the festival movement, which is also represented by the festival of music and jazz, the festival of science. Every year, the organizers strive to invite the best writers, musicians, artists and scientists so that all guests are interested. Over ten days, more than a hundred events are held, which can be attended by everyone..
London Restaurant Festival is a festival that allows you to understand how diverse English restaurants are. In October, gourmets can order special dishes at affordable prices. In addition, the festival includes master classes, show programs with food demonstrations, quizzes, lectures, contests and awards ceremonies, fairs. Take the opportunity to discover the world of culinary!
London hosts the Oxjam Music Festival throughout October, which is a charity event. People can attend the performance of their favorite bands, which represent different directions, namely dance music, classical music, rock, jazz, reggae and many others..
And this is just some of the activities that deserve your attention! You can enjoy exciting cultural activities and rich excursions if you visit England in October!
Vacation photos in the UK