Airport in Lviv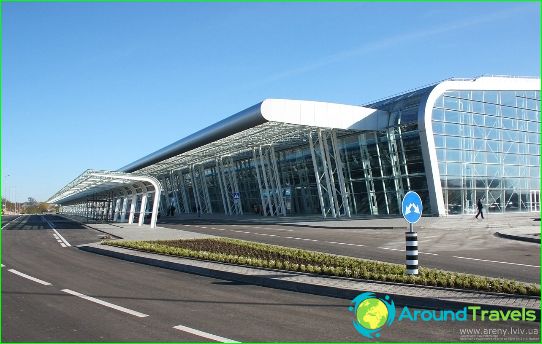 The international airport in Lviv is one of the largest airports in Ukraine, occupying a leading position in terms of passenger traffic and branching of the geography of flights. The airport bears the name of Grand Duke Daniel Romanovich Galitsky, the first Russian prince to receive the royal title from the Pope in 1253.
The runway of the airline, 3.3 kilometers long, is covered with asphalt concrete and allows to receive all types of aircraft without any restrictions. Every day, aircraft of more than twenty world airlines are serviced here, including one Russian - Utair. The wide geography of flights allows the airline to increase passenger traffic every year. In 2013 alone, the airport served about 800 thousand passengers.
History
In 2012, in preparation for the Euro 2012 European Football Championship, the airport underwent a large-scale reconstruction. A new building of the passenger terminal was built, the old one was repaired and modernized, the runway was strengthened and equipped with a modern instrumental approach system for aircraft..
After the reconstruction, the passenger traffic of the enterprise increased by one third. Today the airport's capacity is over 1000 passengers per hour. The air harbor occupies a land plot with an area of ​​more than 3 hectares of land, the area of ​​the passenger terminal is almost 40 thousand square meters, including more than a thousand meters allocated for commercial use (shops, food outlets, restaurants). The terminal is equipped with the latest aircraft traffic alert and terminal navigation systems.
Service and services
The airport in Lviv offers passengers comfortable waiting rooms in the arrival and departure areas. There is a cafe, restaurant, numerous boutiques with souvenir products and textiles. There are also ticket offices, bank branches, currency exchange offices. A convenient navigation system allows you to move around the terminal building on a mobile basis. For business class passengers, the airport offers a deluxe lounge, a meeting room, separate check-in and baggage dispatch without unnecessary formalities. All conditions have been created for the movement of passengers with disabilities.
Transport
The airport in Lviv is located within the city limits, so there is a good transport interchange. Bus number 9 runs from the airport to the Universitet stop, through the central streets of the city. Travel time is 25 minutes. To the main square of Lviv there is a minibus on route No. 48. In addition, city taxi services are always ready to offer their services.
Photos of Lviv airport