Lviv for children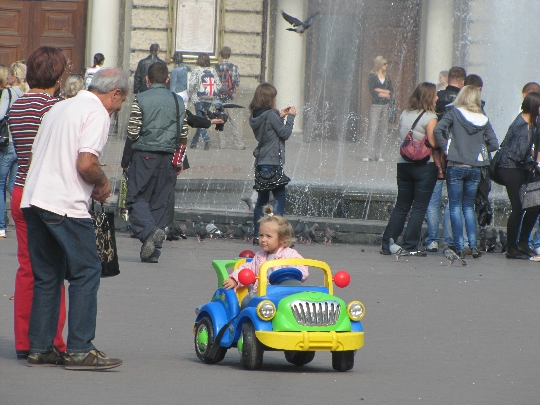 Lviv is known for its unique history, centuries-old monuments and masterpieces of art. There are many attractions here, which will be useful and interesting not only for adults, but also for children. Fabulous legends and myths, images of lions and lion cubs are literally everywhere, ancient castles and the City Hall, a puppet theater - all this undoubtedly makes it possible to position Lviv as a city for children..
What to see with children in Lviv
Of course, the Limpopo Zoo, located forty kilometers from the city. Children will be delighted with bears and tigers, foxes and lions, wolf cubs and raccoons, and other animals of which there are a lot in the zoo. Free admission for babies up to five years old.
You can take a funny tram and take an hour-long excursion around the city, visiting the children's entertainment centers "Vesely Vulik", "Children's Club Split" and the resting place for the whole family "Bulka".
Children will be delighted by a walk along Shevchenko Hai, where you can look at national buildings, wooden huts and take a walk in the forest.
The Chocolate Workshop will amuse the little ones with armchairs - bags and amazingly tasty sweets.
Entertainment
The most famous chain shopping and entertainment center is called Kingcros Leopolis, where it is interesting to jump on trampolines, wander in the maze, play air hockey, watch 3D and 5D films in Planet Kino and even go ice skating. The court is open all year round.
The Park of Culture and Leisure will offer to have fun on the carousels and the Ferris wheel, to have fun in the "Room of laughter".
At the racetrack located near the city's football arena, children can watch horses and learn to ride.
And, in the children's cafe "Three Brooms" everyone will feel like a hero of the fantastic world of Harry Potter and his friends.
The animators of the New Tsum family center will occupy the children at various playgrounds, divided by age groups, in circles, hold master classes and quizzes.
In Lviv there are several such leisure centers for families with children in different parts of the city: Chests, Auchan, Yuzhny.
It is imperative to take the children to the circus, where tours are held, mainly by visiting artists. And visit the regional puppet theater, which has its own workshop for making puppets.
Those who have ever visited this magnificent city come back here again and say that this is the best city for families with children of any age and at any time of the year..
Photos