Best restaurants in Odessa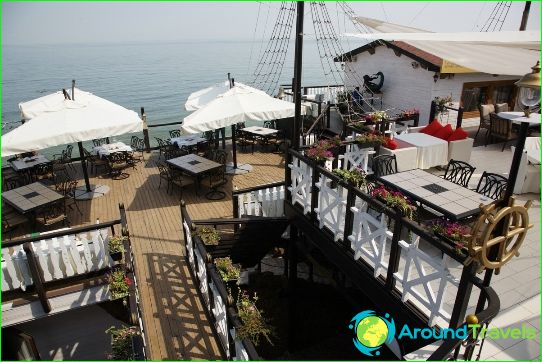 The beautiful city, located on the Black Sea coast, has long been an attraction for travelers. Legends and songs were written about him, he received the most beautiful definitions, like a pearl by the sea. Historical and cultural monuments, beaches and clubs, theaters and concert halls, the best restaurants in Odessa are ready to meet their favorite tourist. It remains only to choose the place and time.
In the lap of nature
In the very heart of Odessa, you can feel yourself in complete solitude. Such opportunities are given to its clients by the Dacha restaurant, although, rather, it resembles a country mansion. The singing of birds, the murmur of fountains, the friendly smiles of the waiters. All that remains is to place an order and completely relax.
The cuisine is almost like at home, the menu in the Dacha restaurant will remind you of the traditional dishes loved by many at the dacha, barbecue, homemade dumplings, noodles (also homemade), dumplings.
Ministry of Recreation
This concept was put forward by the founders of the Odessa restaurant "Ministerium". Receptions here are carried out at the highest level. On the menu you can find dishes of Ukrainian, Italian, Japanese cuisine. Among the signature recipes of this establishment, the following are especially popular with guests:
ravioli and fettuccine;
cream soup with young rabbit meat and herbs;
homemade small cookies.
The interior of the restaurant corresponds to its pretentious name: the old building has been restored, the stucco molding on the walls has been preserved, furniture in bohemian style and expensive carpets complement the entourage.
On Deribasovskaya
The most famous street in Odessa could not do without restaurants, cafes and pubs, where tourists who run around the city during the day can relax. One of the most honored establishments is Ukrainian Gourmet. He is officially awarded the title of the best restaurant in the country and the main attraction of the city by the sea (from restaurants).
"Ukrainian gourmet" is not only sweets, although there are also enough of them on the menu. Everything is very serious, in the best traditions of the generous cuisine of the locals. You should be prepared that the dear guest will be offered dinner, which includes:
delicious borscht with donuts;
baked pork knuckle;
the famous Solokha salad;
Ukrainian homemade wine.
In addition to this institution in Odessa, you can find many restaurants and cafes presenting traditional Ukrainian cuisine, for example, "Khutorok by the Sea", which is actually located on the shore, next to the beach. And you can taste Japanese delicacies in the restaurants "Kyoto" and "Kobe", Greek - in "Papa Costa", Thai - in "Devarana". Restaurants in Odessa are as diverse as the city itself.
Photos