Children's camps in Donetsk region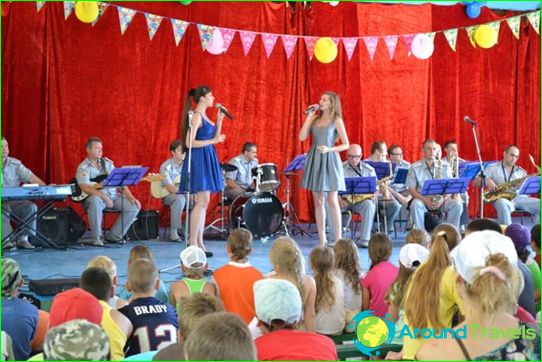 When choosing a place to stay in Ukraine, many people often choose Donetsk region. The nature there is simply wonderful, and the climate allows you to have a good rest during your holidays. Donetsk region is located in the southwestern part of Ukraine, in the steppe zone. It is dominated by a temperate continental climate, which causes hot summers and not very cold winters. The average air temperature in July is +22 degrees.
What attracts Donetsk region
The Sea of ​​Azov is located in the south of Donetsk region. In the coastal areas, recreation centers, children's camps and sanatoriums are concentrated. However, the Sea of ​​Azov is not the only body of water in the region. This part of Ukraine is cut by rivers. There are over 100 of them. The largest river is the Seversky Donets with such tributaries as Lugan, Kazenny Torets and Bakhmutka. Samara, Volchya, Krynka, Kalmius and others are also large rivers. There are many boarding houses and recreation centers on the banks of these rivers..
Children's camps in Donetsk region are located in areas with clean ecology. There are good places for children's recreation near the Seversky Donets. Many of them are located near water bodies and pine forests. Donetsk region is considered an industrial region of Ukraine. Despite this, there are a lot of interesting sights here. The first thing that amazes tourists is the beautiful nature of the region. Campers get to know nature through hikes, walks and excursions. Natural attractions are located in the Donetsk region. The local gem is the reserve "Holy Mountains", which is located near the Seversky Donets and the city of Svyatogorsk. The complex is decorated with the Holy Dormition Lavra, founded in the 15th century. The reserve includes 13 territories protected by the state.
The local flora is considered especially valuable for science. More than 50 plant species are recorded in the Red Book. The fauna of the reserve is also of interest. On its territory there are unique chalk mountains and petrified trees that attract tourists. For children, excursions to the landscape park "Kleban-Byk" are organized, which occupies an area of ​​at least 2 thousand hectares..
What kind of rest do children's camps offer?
The infrastructure of children's recreation in the Donetsk region is very well developed. Each camp occupies a landscaped area that is guarded around the clock. The establishments located next to the sea or river offer quality beach holidays. Children's camps in the Donetsk region begin the health season at the beginning of June. 200-300 children can rest in the camp in one shift. Usually, the guys are divided into groups depending on their age. Almost all institutions have sports sections and clubs. Schoolchildren visit the gym, gym, stadium, sports campus, playground, etc..
Photos of children's camps in Donetsk region