Children's camps in Dnepropetrovsk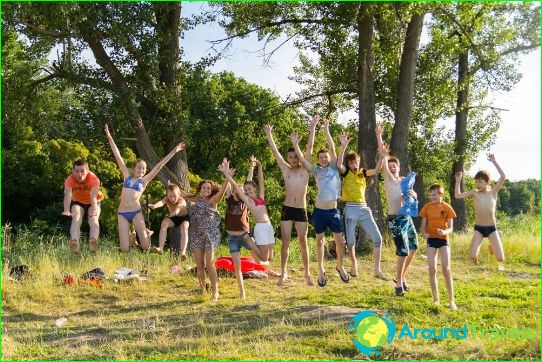 Dnepropetrovsk is the largest business and industrial city in Ukraine. In terms of population, it ranks third in the country. However, here one citizen has the largest area of ​​green space than in other megacities of Ukraine. Today Dnepropetrovsk is developing rapidly. Old buildings and architectural monuments undergo restoration, new buildings appear in the city every year. City infrastructure and transport network are excellently developed.
How to relax in Dnepropetrovsk
The city is famous for its sights and attracts many tourists. Dnepropetrovsk has the longest embankment in Europe. The most popular resting place among the townspeople is Yekaterinoslavsky Boulevard, which is also called "New Arbat". It is decorated with a picturesque alley of fountains. The recreation area in Dnepropetrovsk is very well developed. Tourists visit local attractions, museums and exhibitions that help them get a taste of local history.
Children's camps in Dnepropetrovsk occupy environmentally friendly and well-maintained grounds. There are all conditions for quality rest there. The center of entertainment in the city is the Monastyrsky Island. It is popular with both locals and tourists. There is a city beach, spread out in the green zone. Monastery Island has attractions, a zoo, playgrounds, an exhibition of fish, horseback riding and other entertainment..
What camps work in Dnepropetrovsk
There are specialized educational camps in the city. There, the guys can improve their health and get a lot of new and useful knowledge. There are training camps in which classes are held in certain subjects. Language camps for children are a type of educational institution. They are created specifically for those students who want to learn a foreign language. Camp programs include a variety of educational excursions. In Dnepropetrovsk, there are sports camps focused on certain sports and on the physical development of schoolchildren. Children there are divided into groups depending on the level of training..
Children's camps in Dnepropetrovsk are a great opportunity to join the world of sports. In health institutions, children do exercises, play sports games and get acquainted with various sports. Rest and labor camps are being created for children over 14 years of age. They are mobile and urban. Labor activity is included in the daily routine of these camps. In addition, the guys are engaged in sections, circles and participate in cultural events.
Photos of children's camps in Dnepropetrovsk