Kharkiv metro: map, description, photo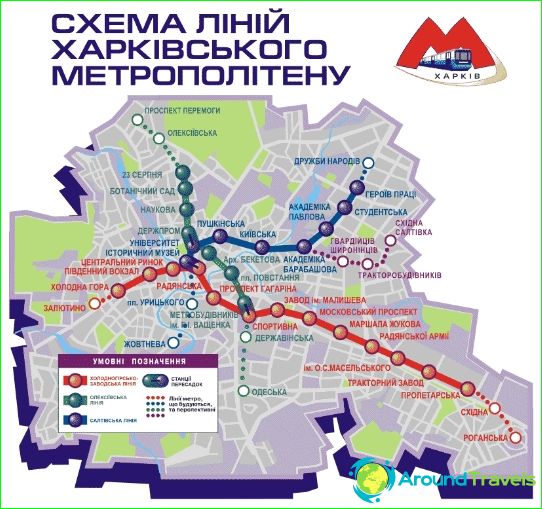 Kharkiv metro started its work on August 23, 1975. At the beginning of 2014, the Kharkiv metro has three lines and 29 stations. The total length of the tracks is 39.3 km. The average passenger traffic is over 800 thousand passengers per day. The Kharkiv metro transports about 250 million passengers per year, which is half of the passenger traffic in the city..
In the 60s, Kharkiv was actively built up, therefore, the problem of public transport was aggravated. One of the solutions discussed by the city authorities was the creation of a subway in the east-west direction - along the axis of the main passenger traffic. One of the plans provided for the unification of the railway tracks with the subway, but they were abandoned in favor of a full-fledged subway and on April 29, 1968, they decided to build the first stage of the Kharkov metro, the construction itself began on July 15.
On August 21, 1975, the state commission accepted the first section of the metro, along which passenger traffic began on August 23. In parallel with the completion of work on the first section, the construction of the second one began. On August 11, 1978, by 8 operating Kharkiv residents received five more new stations.
On August 10, 1984, the second line of the Kharkiv metro was opened - it included 5 stations, two years later, three more were added to them. The length of the second line was 10.4 kilometers. The third line was put into operation on May 6, 1995.
According to the general development plan of Kharkiv until 2026, the metro network should expand significantly. But, in any case, the leadership of the Kharkiv metro reminds the townspeople that the construction of new stations and the purchase of carriages is the sole task of the State. The task of the Metro is to operate it.
Kharkiv metro opening hours
Kharkiv metro operates from 5:30 am to midnight. Metro exits work until 0:45. Intervals of trains during peak hours are 2-3 minutes, at other times 4-6 minutes (in late hours up to 18 minutes).
Payment for travel in the Kharkiv metro
In the Kharkiv metro, the main means of payment for travel is a paper ticket with a barcode valid during the day, and travel can also be paid using refillable contactless cards (RFID cards). Tickets are sold at ticket machines at metro stations. Children under 7 years old have the right to travel free of charge when accompanied by an adult passenger. The privileged category of passengers has the opportunity to receive a contactless privileged card.
Photos of Kharkov metro