Ski resorts in Ukraine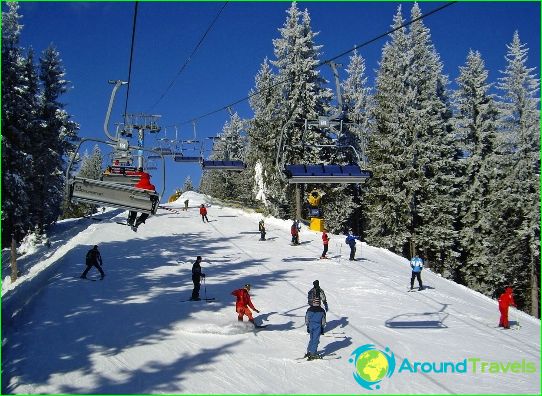 It is believed that the surge in alpine skiing in Ukraine in recent years is the result of the country's great desire to host one of the next Winter Olympics. But be that as it may, Ukrainian ski resorts are developing by leaps and bounds, and there are more and more people who want to spend an active vacation in the Carpathians. Russian tourists are especially attracted by the Carpathian slopes in several ways. The main one is affordable and democratic prices for everything. Of course, advanced skiers and boarders may argue that the quality and complexity of the slopes should be at the forefront for the true athlete. But for beginners and those whose level can be safely attributed to the average, and skiing can be called confident, Ukrainian resorts are ideal.
Ukraine has fifty excellent places where you can spend your winter holidays with dignity. And besides pleasant prices, the local rest does not require knowledge of foreign languages, special obtaining visas and even a passport. The inhabitants of Ukraine are friendly and hospitable, and the local cuisine can melt the ice in the heart of even the most fastidious gourmet..
As for the infrastructure and equipment of the resorts themselves, we can safely say that every season they rise to an ever higher level. The resorts in the Carpathians are especially appreciated by fans of winter slides. The local ski resorts can be put on a par with popular European.
Bukovel in the Carpathians
Bukovel resort is especially popular among those who are used to combining business with pleasure. There is a mineral thermal spring here, and therefore people come to the resort not only to ride, but also to enjoy healing baths and improve their health. Bukovel is located in Ivano-Frankivsk region at an altitude of about 900 meters and has various tracks with a total length of about 50 km. There are sixteen lifts that ensure the delivery of athletes to ski areas, so there are practically no queues.
The season in Bukovel begins in early winter and closes not earlier than the end of April. Maintains sufficient snow cover and snow cannon. The different level of slopes allows both very green boarders, who are willing to take lessons at the local school, and experienced athletes to come to the resort. Many tracks are equipped with artificial lighting, which allows you to rush with the breeze in the evening.
Rental points where you can take equipment provide their services from 70 hryvnia per day. A daily lift pass will cost about 300 hryvnia, and the cost of housing per day from 200 to 700 hryvnia.
Slavske in the Carpathians
This resort meets all European standards and is considered one of the best in Ukraine. For over a hundred years the village of Slavske has been welcoming everyone who wants to have a rest "on the waters" The local thermal springs cure many diseases and allow you to regain physical shape and relieve fatigue. In recent years, the resort has also begun to develop the ski area, and therefore now this place is popular with snowboarders..
12 tracks of various levels and lengths are located on uneven side slopes and provide an opportunity to ride both beginners and those who confidently stand on the side of the mountain. 22 km of slopes allow athletes not to interfere with each other, even on weekends and holidays. Slavske has tracks that are the place of training camps for the Ukrainian team. Even professional skiers find them challenging and interesting. Artificial snowmaking helps if the winter is too warm.
Prices for equipment rental in Slavske start at 50 hryvnia per day. Alpine skiing costs so much, and snowboarding will cost a little more - from 60 hryvnia. The cost of housing is 80 - 120 hryvnia, and a ski pass - 100 hryvnia per day.
Dragobrat in the Carpathians
This ski area is one of the highest in Ukraine, and therefore the local season lasts more than six months. Having started skiing in November, skiers and boarders make their last descents in May. Dragobrat rightfully bears the title of the most beautiful resort in the country. From the slopes of its mountains, delightful landscapes open up: Mount Stog and the Twins massif, covered with snow blankets and coniferous forests.
The slopes in the resort are laid for both professionals and extreme lovers, as well as for inexperienced athletes. There are 16 of them in total, including a freestyle track, and the length of each is from 300 meters to 2 km. Dragobrat has a well-developed infrastructure for recreation and active pastime. Baths and saunas help to recuperate and warm up after a whole day in the cold, and restaurants with a varied menu
provide an opportunity to get acquainted with the national cuisine of the Carpathian region.
Renting a snowboard will cost only 50 hryvnia per day, and the price of a ski pass will be 90 hryvnia. In Dragobrat, you can live in the private sector, renting a room for 100 hryvnia per day, or choose a hotel room, the price of which can be from 200 hryvnia.
Photos of ski resorts in Ukraine