Wine of Ukraine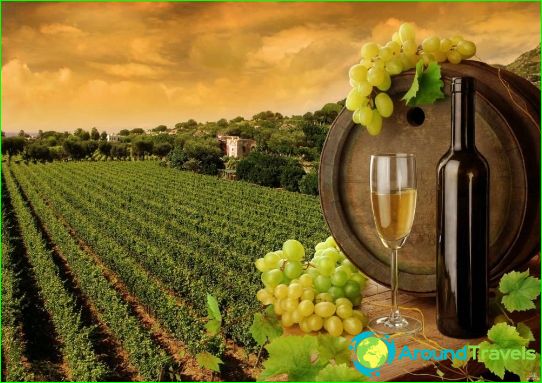 The wine industry of Ukraine has a long history, and the reputation of the product it produces allows it to be successfully exported not only to Europe or Russia, but also to the countries of North America. Thanks to the favorable climate and good traditions, Ukrainian wines can compete with dignity for the title of one of the best in the world ranking..
History with geography
The history of winemaking in Ukraine has several tens of centuries. Archaeologists believe that already in the 4th century BC. NS. in the Black Sea regions, the first wine was made, and in the 11th century monasteries near Kiev and Chernigov were famous for their own drinks from grapes.
During the existence of the USSR, Ukraine became the largest producer and supplier of various types of wine in the country. The anti-alcohol company in the mid-80s of the last century dealt a terrible blow to viticulture and winemaking. Hundreds of hectares of vines were felled, and most businesses were closed..
The modern state is restoring its wine production, and the result of these efforts is an increase in the production of Ukrainian wine and its export to other countries of the world..
Regions and varieties
The main wine-making capacities of Ukraine are concentrated in Transcarpathia, Southern Bessarabia and the Black Sea region. It is here that climatic conditions allow growing grape varieties from which the best wines of Ukraine are produced:
Aligote is a white grape variety that gives the wine a delicate fruity taste with hints of citrus and peach.
Riesling, from which the famous fresh and sour wines are prepared, aged one and a half years with noble notes of pine needles and oak.
Chardonnay, without blending which it is impossible to make wines with soft rose aromas and a light melon flavor.
Merlot used to obtain classic red wines of Ukraine - rich, with a unique powerful cherry aftertaste and surprisingly rich ruby ​​hue.
Cabernet Sauvignon, which gives the king of all red wines - a noble drink, aged, with notes of currant and a light bird cherry flavor.
A separate line worth mentioning is the sparkling wines of Ukraine made from the fruits of the Pinot Blanc, Feteasca and Riesling varieties. These drinks are not inferior in quality to the famous "Soviet Champagne", and they are prepared at factories in Odessa, Lvov, Kiev and Kharkov.
Photos