Airport in Hanoi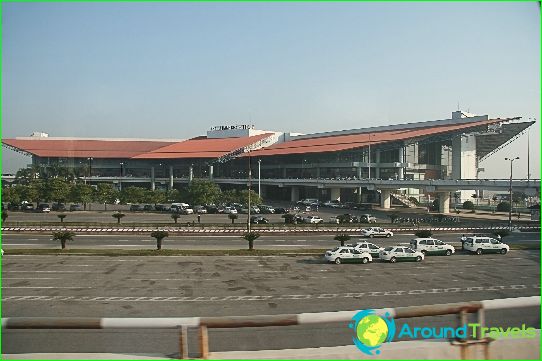 The capital airport of Vietnam is located about 40 km from the city. Despite the fact that the airport serves the capital of Vietnam, Hanoi, it is not the largest in the country. The airport in Hanoi ranks second in terms of the volume of passengers served and the number of flights performed, behind Ho Chi Minh airport in terms of these indicators.
Externally, the airport is made in the best traditions of the Vietnamese style, but inside the building everything is done neatly and comfortably, each of the four floors of the building clearly fulfills its task. The first and second floors are responsible for the arrival and departure areas, respectively, and the third and fourth are given over to various services..
Regular flights from Russia are made to the airport by Aeroflot, Vladivostok Air and Vietnam Airlines. The latter company also provides domestic flights. International flights operate mostly to East Asia, but there are also intercontinental flights.
Services
The airport in Hanoi is ready to offer its guests all the necessary services. Luggage storage is available for passengers from 8 am to 10 pm. You can also take a map of the city center for free at the kiosk located in the terminal..
There is a hotel near the airport, which is mainly used by the crew..
As elsewhere, there are cafes and restaurants that will not leave passengers hungry..
Separately, it should be said about the shopping area, unfortunately, it does not please. The assortment is rather scarce, and the prices of some goods are several times more expensive than in city stores..
Transport
The city can be reached in several ways, which are common in all countries:
Taxi is the most expensive way. For the trip you will have to pay around $ 17. To avoid misunderstandings, you need to clarify the fare and destination in advance.
Bus - the stop is right in front of the terminal. There are 2 routes to the city, number 7 and number 17. The first will take the passenger to the Kimma station, bypassing the tourist area of ​​the city. And route number 17 passes through the tourist area of ​​the city, the final stop is Long Bien station. The fare will be about $ 1-1.5.
Shuttle Bass from Vietnam Airlines. The fare is $ 2, the final stop is the airline's office. For an extra dollar, this bus will take the passenger directly to the hotel.
Photos of Hanoi airport