Tours to Hanoi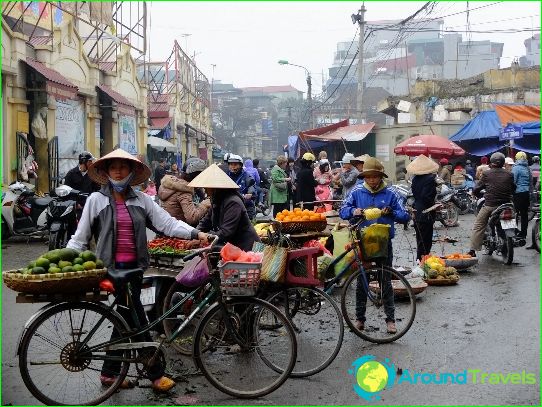 The amazing history of Hanoi made it possible to mix east with west, exoticism with civilization, palm-leaf shacks with unique examples of European colonial architecture. Here they still understand French and cook amazing bouillabaisse, despite the fact that the nearest port is many tens of kilometers away. For those who have chosen Vietnam as their destination for their next vacation, a tour to Hanoi will be an excellent start to an exciting journey to the other end of the earth..
Fleeing the monsoons
The climate of this part of Southeast Asia is largely determined by the monsoons. These winds bring tropical precipitation, and in conditions of high air temperatures, not very comfortable conditions for recreation are created. The rainy season begins in Hanoi in late spring and ends in September, gradually fading away by October. The best time for tours in Hanoi is from November to March. The air temperature does not drop below +15 even in winter, which allows you to enjoy walks and sightseeing without any problems. In summer, thermometers tend to reach +40, and against the background of almost one hundred percent humidity, Hanoi becomes like an Arab hamam.
Millennium relic
One of the main attractions for which I book tours to Hanoi for fans of oriental architecture is the Temple of Distant Salvation. Its uniqueness lies in its unusual design solution. The pagoda was built of wood a thousand years ago and is installed on a stone pillar with a diameter of 1.25 meters. The shape of the temple resembles a lotus flower and symbolizes the miracle that happened to the childless emperor Li Thai Tong, who received a child from the hands of a deity sitting on such a flower. The temple is depicted on one of the Vietnamese coins and has the status of a building with a unique architecture.
Briefly about the important

A direct flight Moscow-Hanoi lasts about nine hours, and the easiest way to overcome 35 kilometers to the city center is by taxi. City buses run from the terminal in several directions, and the travel time is about an hour.
The Vietnamese accept dollars as payment, but by exchanging them at the bank for dongs, you can win a little, since the dollar exchange rate among merchants and taxi drivers is underestimated not in favor of the guests.
It is possible to rent a scooter or bicycle during a tour in Hanoi, but very risky. The problem lies in the crazy traffic for a European, not too pedantic observance of traffic rules and a small number of parking lots. If you add thieves and hijackers to this, the idea of ​​a ride in the breeze won't seem as great as it used to be..
Photos