Rio de Janeiro beaches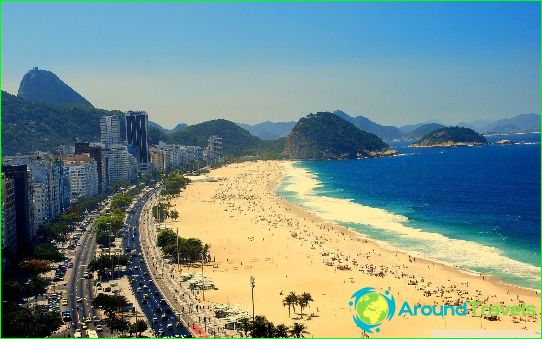 Brazil is famous for its sultry sun and beautiful girls, and the city of Rio de Janeiro, which locals affectionately call just Rio, attracts tourists from all over the world all year round. This city is the fifth largest in the whole of South America, so tourists are familiar here. The beaches of Rio de Janeiro provide vacationers with an unforgettable experience, clean warm sand and friendly waters of the Atlantic Ocean.
Safe and wealthy Ipanema
Ipanema Beach is considered the second most popular beach in Rio. The beach is located in the southern part of the city, in one of the safest and most fashionable areas. This beach is quite calm, because there are an order of magnitude less vacationers here than in Copacabana. Schoolchildren, young couples, students, elderly people and families with children prefer to relax here, because the local territory really allows you to have a good rest in peace and quiet.
There are practically no huge waves for which Copacabana is famous, so windsurfing fans shouldn't pay attention to Ipanema. However, it is for this reason that it is much safer to swim here, and small children who have not really learned how to swim can do it here. The risk of gorging on water or at one point not feeling the bottom underneath tends to zero, which encourages young parents to bring their inadvertent crumbs here..
One of the attractions of Ipanema is, of course, Cape Aproador. Here you can meet couples in love who are waiting for the sunset, or just romantics dreaming of taking the best photo of their life..
In the Ipanema area, all restaurants and shops are very expensive, so this is not the best place to get souvenirs from Brazil.
Features of Ipanema beach
Since Ipanema is almost constantly filled with vacationers, the list of services that are presented here for all lovers of outdoor activities is quite large. Tourists can play beach volleyball or football, and there are rollerblades and cyclists' courts near the beach. Of course, there are also bars here, so a delicious refreshing cocktail or green iced tea will always save you from the heat..
It is noteworthy that Ipanema has an area for vacationers who represent sexual minorities. This area is visible to ordinary tourists from afar thanks to the huge rainbow flag. There are also special beaches for the disabled and for vacationers who have come on vacation with their pets..
The best sandy beaches of Rio de Janeiro are famous for affordable prices and a huge list of various services. In addition to Ipanema, Rio also has the following beaches:
Copacabana
Recreo
Urka
Leblon
Leme
Barra de Tijuca
Aproador and many others.
Photos of the beaches of Rio de Janeiro