Holidays in Rio de Janeiro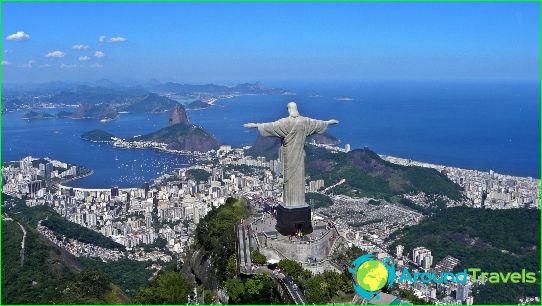 Holidays in Rio de Janeiro are hot sun, the best Brazilian beaches, numerous entertainment, noisy parties.
The main activities in Rio de Janeiro
Excursion: as part of the tours, you will see the statue of Christ, the Selaron stairs, the Carioca aqueduct, the São Bento monastery, the Maracanã stadium, visit the Flamengo park, the Botanical garden, the Museum of modern art, walk along the Sambodrome street and the bohemian district of Rio - the Santa Teresa quarter, go up to the observation deck Mirante Dona Marta. For those wishing to organize trips to the Iguazu Falls or the Amazon.
Active: those who wish can climb the Sugarloaf on the funicular, go hang-gliding, surf and sail, play golf, spend time at the Bukowski bar, Lapa 40 Graus club, Rio Water Planet water park (guests will find a variety of slides, swimming pools with artificial waves , waterfalls, shows, carting).
Beach: Copacabana, the most popular beach in Rio (rent of umbrellas is paid, use of showers is free): vacationers here, in addition to sunbathing and swimming, will be able to see celebrities, attend concerts, and go windsurfing. If Copacabana is too noisy a beach, then couples with children and the elderly should go to Ipanema (there are no strong waves here). And those who wish can play football or volleyball here..
Prices for tours in Rio de Janeiro
The best time to relax in Rio is considered to be the high season, which lasts from November to April. A significant increase in prices for tours to Rio is observed during the Brazilian Carnival (February-March), accompanied by parades, masquerades, performances by participants in samba schools. Those who want to save a little can visit Rio de Janeiro in May-September.
On a note!
To see the main attractions, you can take the green sightseeing bus.
When going to the beach, it is advisable to leave jewelry and valuables in a hotel safe, and do not leave bags and cameras unattended. You should not take evening walks in remote areas of the city, and in the dark it is better to move around the city by car, and not on foot.
On vacation, it is not recommended to drink tap water or drink ice-cold drinks. Since the sun is hot in Rio, it makes sense to treat your body with high SPF sunscreen every day..
Memorable gifts from Rio de Janeiro can be elements of a carnival costume, Brazilian coffee, seasonings and spices, jewelry with precious stones, Indian souvenirs (bracelets, braided baubles, dream catchers, ethnic clothes, wooden figurines).
Photos of holidays in Rio de Janeiro