Tours in Rio de Janeiro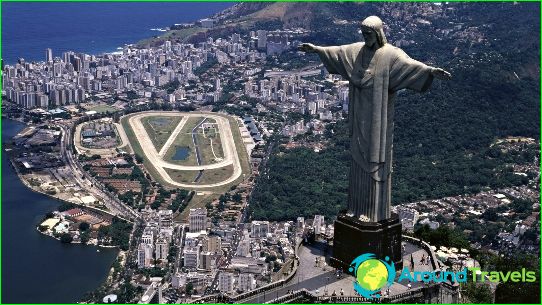 The city, where Ostap Bender dreamed of getting to, in order to walk like all its inhabitants, in white trousers, and today attracts considerable attention from travelers. Today, 6.5 million people already prefer white trousers, and Rio itself has changed a lot since the days when a fraudster of all times and peoples dreamed about it. His bright and original flavor and desperate desire to resist adversity remained unshakable. This is practiced by the townspeople with the help of dances at the carnival and wide smiles that conquer all participants of tours in Rio de Janeiro without exception..
History with geography
The foot of a European first set foot on this shore in January 1502. The Portuguese decided that the bay washing Rio was a river and named the city Rio de Janeiro. In the middle of the 18th century, the "January River" became the capital of the Viceroyalty of Brazil, and remained it until the middle of the 20th century..
Unesco believes that much in Rio deserves to be included in the World Heritage List, and therefore not only the statue of Christ the Redeemer takes its place of honor there. Tour participants in Rio de Janeiro can get to know the rest: Copacabana Beach, the Gulf Coast and Sugarloaf Mountain. The latter is considered the hallmark of Rio, because the mountain meets the guests of the city, arriving both by sea and by air, and crowns all landscape photos.
Briefly about the important
The European winter months are the hottest summers in Brazil. The temperature in January noon can exceed +40 degrees. In addition, from December to April, participants on tours in Rio de Janeiro will have to feel the full power of tropical showers. The rainy season takes place in the city during this period. In July in Rio - about +30, the water in the ocean warms up to +22, precipitation is rare and the tan on the Copacabana beaches is excellent.
One of the main reasons the bulk of Rio de Janeiro tours are booked is the Brazilian Carnival. Traditionally, they mark the beginning of Lent, and its origins lie in the Portuguese Maslenitsa. The main celebrations take place in February-March at a stadium called the sambodrome. Thousands of people participate and hundreds of samba schools showcase their students' skills.
Hotel prices soar several times during the carnival season, and therefore it is worth booking tours to Rio in advance. These days, there is a danger from criminals who can take advantage of the crowd and the hustle and bustle to get into the pocket or bag of an inattentive traveler..
Photos