The best resorts in Brazil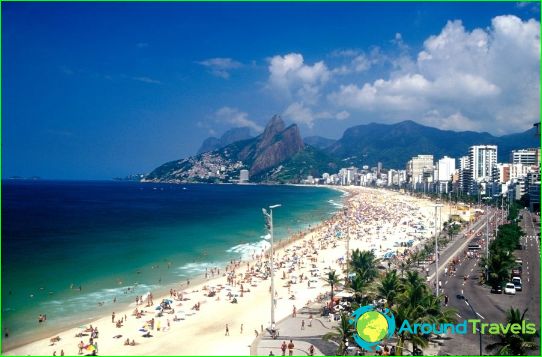 Brazil is the most sought after tourist destination when it comes to South America. This truly amazing vacation spot meets travelers with the hospitality and hospitality of the locals. Vibrant city life, the most fun carnival in the world, the best resorts in Brazil and magnificent tropical nature - these are all components of a truly amazingly unforgettable vacation vacation..
Costa do Sauipe
This is the largest resort area in Brazil. The borders of the Costa do Sauipe are the country's natural reserves, where you can see the rarest species of mangroves, as well as exotic animals.
A unique tandem of untouched wilderness and a superbly developed recreation infrastructure allow the resort to offer guests a variety of leisure options. Travelers can enjoy a classic beach holiday, or go on exciting eco-walks with overnight stays in tents, far from all the blessings of civilization. The Pacific coastline with kilometers of clean, white sand beaches makes this Brazilian resort an incredibly attractive destination..
Angra dos Reis
The coastal waters of the Atlantic with an amazing emerald hue, in the water area of ​​which there are 365 picturesque islets, have made Angra dos Reis a very beautiful place. This city, located on the coast of the ocean, is simply buried in lush greenery of tropical groves. An atmosphere of friendliness and peace reigns here, turning the local rest into an absolutely unforgettable pleasure..
If you wish, you can go on exciting excursion walks and get acquainted with local attractions. Such a great combination of stunning beaches and interesting monuments has turned this resort town into a truly wonderful place for a great vacation..
Buzios
Numerous beach areas with clean sand and clear waters of blue lagoons have made Buzios a truly chic resort in the country. It all started with a small fishing village, whose inhabitants were French pirates. To this day, Buzios has retained its amazing provincial charm, despite the fact that it has long been a fashionable resort town.
Seething like lava in the throat of an awakening volcano, the city's nightlife attracts numerous guests here. But this is not the only thing that the resort has to offer travelers. First-class hotels with great service, restaurants serving local cuisine, bright sunshine and unforgettably gorgeous secluded coves are just a fraction of the fun Buzios has to offer..
Photos of resorts in Brazil