Car rental in Brazil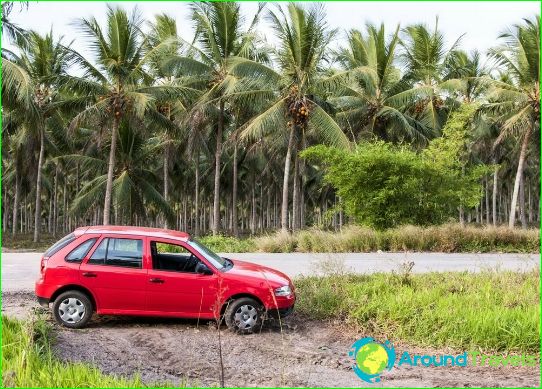 To rent a car, you will need an international driver's license and a bank card. Car rental offices are located, most often, near large hotels, as well as at airports. The former work, as a rule, from 9:00 to 16:00. The second - around the clock.
Features of car rental in Brazil

When you rent a car, insurance is issued for you, which is calculated approximately as follows: $ 10-13 per day, while a cash deposit is also paid.
If you have a credit card, it is not required, because the required amount will be blocked on the card.
Local distributors usually charge about 10% less than international ones, but the former have older cars. Moreover, it is not always possible to return the car in another city..
It is prohibited to travel outside the country in a rented car.
But these are only small inconveniences for what awaits you on the hospitable Brazilian soil! Car rental in Brazil is worth it.
What does car rental include:
Car theft insurance, usually with a deductible;
Airport taxes;
Insurance against any damage to the car, usually with a deductible;
Value added tax;
Unlimited mileage for the entire time of using the car;
Auto insurance OSAGO.
You can rent a car (economy class, premium or executive class, hatchback, minivan or SUV) at the hotel, airport, railway station or with the delivery of the car to your destination.
Additional options available when booking a car:
Baby seats;
Navigation equipment;
Special armchairs for babies;
Insurance with complete or partial absence of liability;
Winter tires and wheel chains;
Luggage rack for skis, snowboards or bicycles;
Additional trunk.
Of course, car rental is the best solution for tourists who want to independently determine the travel time and travel routes around the country, independently go around the wonderful places of this wonderful country with a rented car! This is the beautiful jungle of the Amazon, and the magnificent gold of the beaches of Rio de Janeiro, the amazingly delicate aroma of coffee, and the incomparable roar of mighty waterfalls. Like a magnet, all this attracts any tourist to Brazil, and they come here from all over the world..
The beaches in this country are world famous, for example, Copacabana. Here the sea is warm and extremely clear. And what is the Brazilian cuisine itself worth! It is a pity that you can only get into this fairy tale from Russia if you have very bulky wallets. But if you can afford such an expensive flight, then visit the ancient cities and the oldest monasteries here, built in the Portuguese style..
Photos