Croatia beaches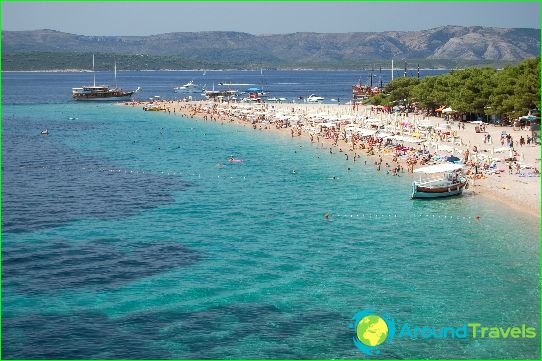 Reviews of tourists who have visited the resorts of Croatia are often full of admiration for the amazing rich colors and unpolluted nature of the country. This state in the west of the Balkan Peninsula is called one of the cleanest places in the world..
A country loved by tourists
The country's Adriatic coast, many islands, indented by lagoons, attract visitors from all over the world. Resort towns are located in three zones:
Central Dalmatia;
South Dalmatia;
Istrian peninsula.
In the first region, the popular cities of Split, Sibenik, Brela, Trogir, Makarska. The second zone is famous for the cities of Dubrovnik, Plat, Cavtat, Neum. In Istria, Pula, Porec, Umag, Medulin, Rabac, Lovran are most often visited. Tourists rest on the islands of Brijuni, Hvar, Brac, Kolocep, Mljet.
Turquoise pearl among the rocks
The best sandy beaches in Croatia are Lapad, Omis Riviera, Trstenica, Nin chain, Kostanj, Jelenica, Sabusa, Crvena Luka, Golden Horn. The coastline of the coasts consists of stones and rocks that reach almost to the water itself, so small pebbles will often be found underfoot. Many of the shores are surrounded by pine trees, in the shade of which you can relax. Due to this feature, the sea is very clean and transparent. There is something to see underwater: divers can visit the western coast of Istria, where they will stumble upon sunken brigantines. Even without diving equipment, you can admire the beauty of the underwater living world, but for swimming it is better to stock up on rubber slippers: sea urchins are found in the water. Some of Croatia's beach areas have been awarded the UNESCO Blue Flag. This award is given to places that meet stringent cleanliness requirements and can provide quality service and safety. The color of the water is special - dark turquoise. Even in winter its temperature is not less than +10 ºС, in August it reaches a maximum of +26 ºС. In South Dalmatia, resorts are slightly warmer than in other areas. The most active season is August-September. At this time, the coasts are full of people. Most of the tourists are Europeans, there are not many Russians here. Due to the high level of ecology, calm atmosphere in Croatia, families with children like to relax..
Many yachtsmen dream about the lagoons of the Croatian islands. Yachting is gaining importance in the tourism industry. The state is investing in the construction of marinas, training for yachtsmen, creating clubs and developing infrastructure. The beaches of Croatia, surrounded by green forests, healthy air, warm sea and clear azure water - all this will turn your vacation into a real unity with nature, bring peace and harmony..
Pictures of Croatia beaches
Croatia beaches