Croatian cuisine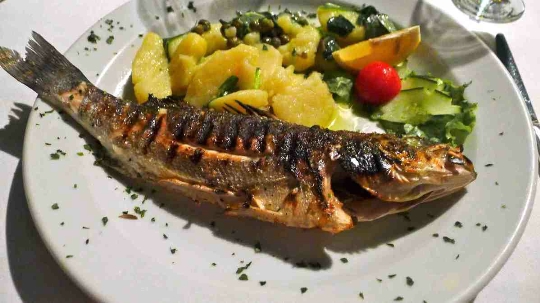 Despite the fact that the Croatian cuisine was formed under the influence of the gastronomic traditions of its closest neighbors, it has retained its own flavor and individuality..
National cuisine of Croatia
If we talk about first courses, then in Croatia, light soups cooked in beef or chicken broth are held in high esteem (dumplings, noodles or rice are often added to them). If you wish, you can try tomato soup, presented in the form of a hot soup with the addition of tomatoes, rice and spices.
And if we consider the cuisine of individual regions, then on the Adriatic coast they prefer to cook "wanders" (fish stew with spices and red wine), "black ryjote" (seafood, fish and cuttlefish ink) and "prshatari" (crab-based dish), and in the Central region - "prosciutto" (dried pork leg) and "whiskey begavice" (lamb dish with sour milk). As for side dishes, potatoes, asparagus, artichokes, pasta or different types of cabbage are usually added to meat and fish dishes..
Popular Croatian dishes:
"pashtitsada" (a dish of beef stew with wine sauce and dumplings);
"purechaprsa" (turkey breast with pickled stuffed vegetables);
"manistra od dobic" (bean and corn soup);
"midgemur skagibanitsa" (sweet puff pastry with cottage cheese, poppy seeds, apple and nuts);
"cool" (sausage with chopped pork, spices and paprika).
Where to try Croatian cuisine?
If you decide to eat fish in authentic restaurants, take into account that the fish menu is divided into categories, which is why the dishes differ radically in price (the most expensive dish is considered to be scarpena). Extra-class fish include dorada, sea bass, red mullet, horse mackerel and mackerel will cost a little cheaper. One more thing - in order to avoid a financial surprise, please note that in the menu the price is indicated for 100 g, and not for a whole fish..
In Dubrovnik, you can have a snack at "Revelin" (the interior of the establishment is a combination of modern and medieval styles, here you can taste traditional Croatian dishes and admire the view overlooking the city port), in Split - in "Konoba Kod Joze" (Konoba guests are treated to pasta with mussels and risotto (risot) with seafood, and those who wish are offered to dine on the open terrace on warm summer evenings) or "Konoba Matejuska" (here visitors can enjoy a salad with octopus and pickled tuna, as well as homemade wine), in Zagreb - in "Didov San" (the establishment specializes in beef and lamb dishes prepared according to traditional recipes, as well as Dalmatian cuisine). Tip: if you decide to leave the waiter "tips" - do not put them on the table, but personally hand them.
Cooking courses in Croatia
Those wishing to learn Croatian culinary skills will be able to visit the Culinary Institute Kul IN (Sisak): the students will have workshops (80% of the study time), meetings with successful chefs, visits to local farms and centers of local food production.
A visit to Croatia is worth planning for the Week of Restaurants (Zagreb, March), the Cherry Festival (Lovran, June), the Fish Festival (Koprivnica, March).
Photos