Shops and shopping centers in Zagreb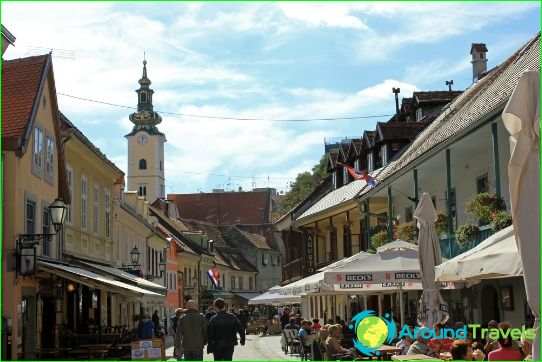 Shopping in Croatia is a good addition to a traveler's vacation. On the one hand, Zagreb is a capital city located in the center of Europe next to Italy, which promises good shopping. On the other hand, practice shows that in boutiques in Zagreb they most often offer things from last year's collections and do not indulge in a scrupulously compiled size range. So experienced shopaholics prefer Croatian souvenirs and food delicacies. And not so discerning audience will be satisfied with this type of recreation in all respects..
Popular retail outlets
The central shopping street of the Croatian capital is Dolne Grad ("lower town") Ilica. Smaller streets branch off from it in both directions. This entire area is littered with shops of all sizes. At the same time, it is quite compact, and the legs will not present you with claims for merciless exploitation. All well-known European brands keep their boutiques in the Ilica area. Boutiques coexist with art galleries, museums and restaurants. So a walk in Ilica will be full of diverse impressions. There are shops of different price segments, but preference is given to brands of the middle price segment, such as Benetton, Max Mara and others. Armani, Dolce & Gabanna are located in the area of ​​the central square of Ban Josip Jelačić. Max Mara, Escada, Cacharel, Calvin Klein, Diesel - on Frankopanska, Gundulićeva streets.
No city is complete without shopping and entertainment centers. "Zagreb Arena" - just 10 minutes from the center. by car. «West gate» - huge sizes, maximum selection of goods; take the E59 highway towards Maribor. «Roses Designer Outlet» - Outlet with discounts on European brands, located along the same E59 towards Maribor.
Interesting shops of Croatian manufacturers:
«Nebo» on the street Radićeva, 17, specializes in clothing made from natural fabrics. Woolen dresses, cardigans, cotton and silk blouses, scarves are of high quality and discreet style.
On the same street in the courtyard of house No. 3, a shop «Galerij oblak». Her mistress makes and sells jewelry from grants, coral and other semi-precious stones..
Boutique «Mara» (Ilica, 49) offers jewelry, handbags, brooches in folklore style. These knick-knacks are made very soundly, are not cheap, perfect for a gift to a loved one.
On the street Vlaška, Taja and Hook shops are notable. They wear simple, but at the same time interesting clothes for every day. Labels on clothes from such shops are no less a memory of Croatia than fridge magnets. They will awaken warm memories of a hospitable ancient country for a long time..
Photos of Zagreb shops