Shops and shopping centers in Dubrovnik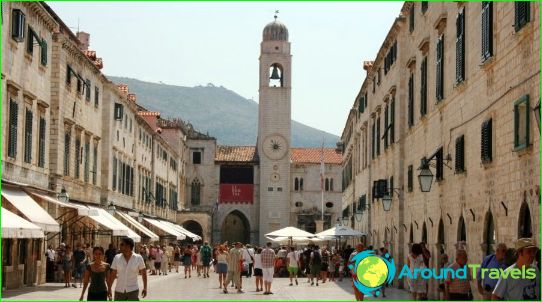 The ancient seaside town of Dubrovnik in southern Croatia is not a popular shopping destination. Nevertheless, you can bring wonderful souvenirs or other things from it. Moreover, the prices will leave the most pleasant impressions..
Popular retail outlets

The old town is home to many small boutiques with well-known brands. For luxury goods we go to «Maria Concept Store». Here are brands such as Rick Owens, Celine, Givency, Valentino, YSL, Jil Sander, Faliero Sarti, La Perla, Cloe, Marc Jacobs, Stella McCartney. The discount branch of the store can also be found in the Old Town at Cvijete Zuzoric, called «Outlet maria».
A good gift for the representatives of the strong half of humanity can be found in the boutique «Croatia». Handmade ties are purchased here. The wardrobe item is placed in a beautiful box, and an exquisitely designed article about the history of this accessory is added there. From these articles one can glean, for example, information that the prototype of a modern tie was something worn around the neck by Croatian mercenaries during the military campaign of 1616. The horizon will be enriched with information about the international Day of the tie - there is, it turns out, such a holiday.
Shop «Atelier secret» on the street Kuniceva offers unique jewelery made from semi-precious materials by local craftsmen. Here you can order a brooch, pendant, bracelet, earrings according to your sketch.
For books, as well as English, Spanish and French periodicals, we go to Stradun street to the store «Algoritam». About half of the printed matter here is in English. The store also has a large section with accessories for electronic gadgets and game disks..
There is a large shopping mall on Frana Supila street «Lazareti». Here you can find clothes for all family members, household goods, electronic equipment. On its ground floor there is an excellent souvenir shop with colorful works of Croatian embroidery, weaving and other handicrafts..
There are a couple of famous shopping centers in the city: «Merkante» and one of the largest in Croatia «DOC Kerum Shopping Center».
The local farmers' market is located in the Old Town at Gundulićeva Poljana. Fresh vegetables and fruits are brought here every morning. meat, fish, Croatian prosciutto (pork ham smoked on charcoal), Paz cheese (hard cheese made from sheep's milk with the addition of olive oil) and other goodies.
Photos of Dubrovnik shops