Prices in Mexico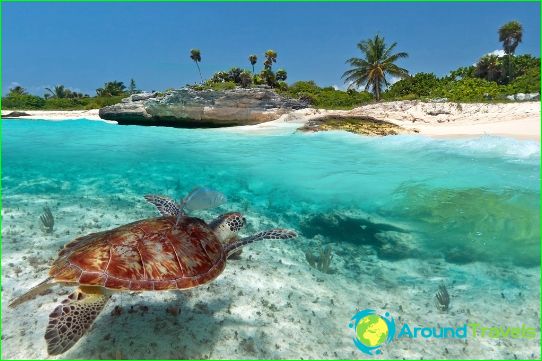 Prices in Mexico are not very high (lunch at a cafe will cost you about $ 30, a bottle of water - $ 1, 1 liter of gasoline - $ 0.9), but it is worth considering that the Yucatan Peninsula, Baja California and Monterrey are quite expensive resorts.
Shopping and souvenirs
In Mexico, you can buy at an affordable price not only various souvenirs and handicrafts, but also shoes and clothes. You will be able to make profitable purchases in shopping centers and markets (bargaining is appropriate everywhere, but not in shopping centers and not in stores of famous brands).
You can go shopping not only in the capital, but also in the city of Puerto Vallarta: there are many shops where you can buy inexpensive clothes, cigars, alcohol, as well as the Huicholi Indian market (here you can buy original handicrafts).
In memory of Mexico, you can bring:
Aztec knife, poncho, sombrero, ceramics, souvenirs made by Indians (plates, masks, pyramids), blue amber, "volcanic glass" figurines, wooden, onyx, leather, copper and straw products;
tequila (Carraleja, Don Julio, El Jimador), Mexican sauce (starts at $ 1.6), sweets (sweets sprinkled with coconut, mango or guava marmalade).
In Mexico, you can buy a poncho from $ 16, a sombrero - from $ 12, beads - from $ 40, tequila - for $ 12-24, a hammock - from $ 80, ceramics - from $ 4, skulls - from $ 8 , Mayan calendar - from $ 1.6, silver jewelry - from $ 8.
Excursions and entertainment
On a sightseeing tour of Oaxaca de Juarez you will visit the church of Santo Domingo de Guzman, stroll through the historic center of the city, see historical and architectural sights. 4-hour guided tour costs approximately $ 60.
In the resort of Cozumel, it is worth visiting the Arrecifes de Cozumel National Park. Jacques-Yves Cousteau here more than once filmed documentaries about the underwater wealth of the island. A stay in the underwater part of the park will appeal to divers: here you can see a sunken ship, Paso del Cedral, and the Golo Devil's reefs. A visit to the park will cost you $ 60.
Transport
Despite the fact that city buses are often overcrowded, they are a convenient and rather cheap mode of transport: the ticket price is $ 0.2-0.6. Traveling on an intercity regular bus, for example, in the direction of Kankud-Merida, will cost you about $ 16, and on a luxury bus (with air conditioning, toilet, TV) - $ 28. You can get around Mexico City, Monterrey and Guadalajara by metro: the ticket price is $ 0.2. If you decide to use the services of a taxi, then you will pay $ 0.8 for landing + $ 0.4-0.7 for each kilometer of the way..
In the case of a very budget holiday option, your minimum expenses in Mexico will be $ 30 per day for 1 person, but for a more comfortable stay you will need at least $ 60 per day for 1 person.
Photos