Beaches in Adler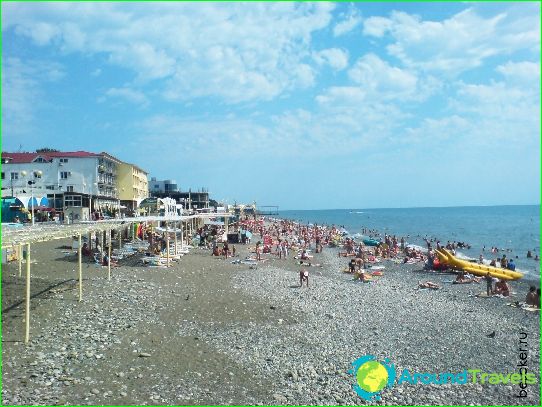 Many consider Adler to be a city where you can have a good rest and at the same time get medical treatment, because on its territory there is almost a record number of medical institutions, health resorts and sanatoriums. However, the beaches of Adler are the ultimate dreams of many residents of the CIS countries, and the city itself is a pretty coastal representative of recreation centers. Here you can swim to your heart's content, sunbathe well and have fun even in the dark..
Variety of beaches in Adler
By and large, the pebble beaches of the city are the most popular. The best sandy beaches of Adler are not in great demand here, because vacationers do not prioritize the compulsory availability of soft sand, and the pebbles completely suit them. Why is pebble better than a sandy coating?
pebbles heats up more slowly and cools down much faster, so it's nice to be on a pebble beach in the heat;
pebbles do not stick to the body;
pebbles do not pollute the sea, so the water remains absolutely transparent.
However, some vacationers cannot feel completely satisfied if they do not build at least one sand castle and bury a friend for the sake of a joke during their entire vacation. For such people, there are also sandy beaches, which, however, are much smaller here than with pebble ones. Sand lovers can also be understood: you can comfortably sit on it even without a sun lounger, and even in not very hot weather, sand retains much more heat than small stones.
Vacationers can choose the beach according to their own preferences. For example, seclusion seekers can travel as far from the city as possible to explore wild, unspoiled beaches. The wild beaches of Adler allow you to feel yourself far from the whole world, to fully relax, not only physically, but also mentally. Vacationers' reviews of local exotic and wild beaches are very enthusiastic.
But for those who want to enjoy the most comfortable rest in the company of strangers, there is a huge number of opportunities here. They will find here many fashionable hotels, restaurants, eateries, as well as many options for outdoor activities: training in jet skiing, water skiing and the like..
Each beach is equipped with a chain of changing rooms and modern toilets, as well as showers with not very cold fresh running water. There is a permanent rental of sun loungers, umbrellas and other beach equipment.
Adler's central beaches are ideal for those who love a noisy crowd and new acquaintances. It is believed that the best central beaches in the city are «Komsomolets», «Center» and «South Seaside».
Photos of Adler beaches