Where to eat in Adler?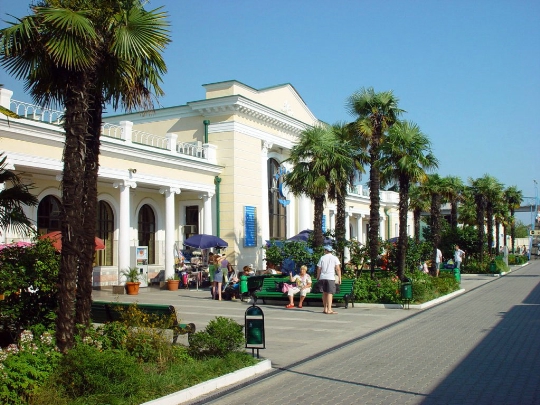 Thinking about where to eat in Adler? You can eat in the city in cafes, khinkalny, canteens, pizzerias, cheburek or restaurants. If you go on vacation here with children, do not worry: even if the restaurant you have chosen does not have a special children's menu, there will always be cereals, soups, cheese cakes and pancakes in the assortment..
Where to eat in Adler inexpensively?
You can eat inexpensively in numerous canteens - cereals and omelets are served for breakfast, and soups, meat dishes, side dishes, salads for lunch and dinner (the average bill is 150-200 rubles per person). For example, for a budget set lunch, you can go to the cafeteria "Seaside" (Prosveshcheniya street, 86).
If your goal is tasty and inexpensive food, go to a cafe "Bagration": goulash costs 55 rubles, cheese cakes - 35 rubles. In addition, here you can order a hodgepodge or borscht, roast in a pot, barbecue. Trout lovers should check out the tavern "Canyon" - in addition to all kinds of dishes based on this fish, guests here are pampered with seafood and meat dishes in Greek (a hearty lunch without alcohol will cost 350-400 rubles).
Where to eat in Adler delicious?

"Frigate": This cafe specializes in European, Caucasian and Italian cuisine. Here you should try barbecue, pork steak with stewed vegetables, boiled tongue in a creamy sauce, baked trout with herbs, spices and Caucasian-style lemon, apple strudel, cheesecake with strawberry sauce. In addition, the institution has an outdoor terrace and live music..
Fish House: This restaurant serves fish and seafood dishes. It should be noted that the institution has a wide selection of cocktails and wines, there is karaoke.
Forward Tower: being a complex with a sports bar, a restaurant and an outdoor terrace, this institution offers its guests to enjoy dishes of European, Caucasian, Japanese and Italian cuisines. Here you can taste seafood-based dishes, as well as barbecue meat.
"Pontos": in this restaurant you will be able to enjoy the atmosphere of Greek hospitality as well as Greek, Caucasian and Russian cuisines. In addition, there is a huge selection of exquisite drinks, including a variety of wines..
"Cohn-Coronel": in the menu of this restaurant, located on the shore of a picturesque lake, you can find dishes of the Caucasian, Russian and European cuisines - sturgeon, carp, sterlet or quail, baked over coals, kebab of different sorts of meat. In addition, there is live music and billiards..

Gastronomic excursions in Adler
As part of a gastronomic tour of Adler, you will visit authentic establishments where you will be offered to taste national cuisine and wines. In addition, you will be offered to go to the restaurant "old lock", where European and Caucasian cuisines are presented.
In Adler, you can enjoy not only the warm sea, beautiful nature and historical sights, but also delicious dishes of national cuisine.
Photos