Viewpoints of Anapa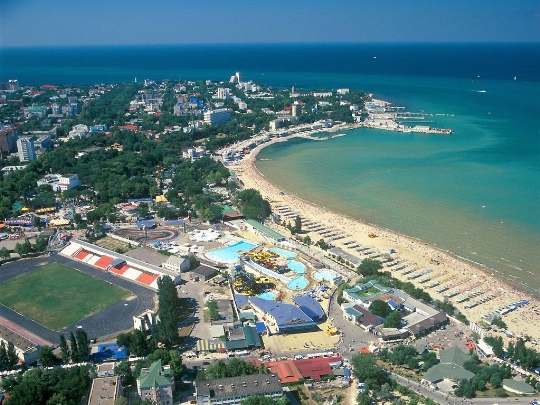 Having made an ascent to the observation platforms of Anapa, travelers will be able to admire both the sights of the resort itself, in particular the almost three-kilometer embankment, and interesting objects of its resort areas (suburbs).
Anapa lighthouse
The height of the lighthouse is over 40 m; people often rush here for a walk, romantic dates and those who want to capture local beauty in a photo, especially at dusk and dawn (they say, to come back here again, you need to throw a coin into the sea). At the foot of the lighthouse there is one of the best observation platforms - visitors will be able to admire the southern vegetation, endless blue sea, sailboats on the open sea and the Caucasus Mountains.
How to get there? Vacationers should take bus number 25, 24, 2 or 9 (address: Verkhnyaya Naberezhnaya street).
Recreation center "Marines"
Accommodating in a new building (reconstruction was carried out in 2012), guests will be able to enjoy the view of the Black Sea, Vityazevo and the dunes from the observation deck.
How to get from the Anapa railway station? (address: Anapa, Vityazevo, Yuzhny Avenue, 1d): first you need to get to the Anapa bus station by minibus number 100; then you should get to the stop "Recreation center Slava", pre-transfer to minibus number 134 (then you need to walk for 2 minutes).
Bow cross
From the observation deck (if you wish, you can relax on the benches installed here), from a 200-meter height, vacationers will be able to enjoy a panoramic view of Anapa, Supsekh, the Black Sea. And since an exhibition is being organized nearby "Russian bells", then you should definitely look there (admission is free; the exposition features about 50 bells of different sizes; if you wish, you can get consecrated crosses and icons in the souvenir shop).
Address: Anapa, Supsekh village.
It is worth noting that this village has a section of the coast with a descent to the sea in the form of a staircase with 800 steps (those who climb will find resting places and observation platforms here).
Bald mountain
A relatively easy ascent (an unprepared person can spend 15 minutes on the ascent) will be rewarded with a unique panorama from Anapa to Utrish (a beautiful view of the sea and the surrounding area will open from here). Finding Bald Mountain is not difficult - it is located next to the sea on the right side of the Sukko Valley.
Amusement park "Sunny island"
Has attractions "Jumping jeeps", "Aladdin's Flying Carpet", "Flying elephants", but of particular interest to visitors is the Ferris Wheel (ticket price - 200 rubles), from the booth of which you can admire "passing by" below the city (from the highest point you can see the surroundings up to Dzhemete).
Address: Pionersky prospect, 38a (public transport goes here along the route number 134, 114, 128).
Photos