Tours to Anapa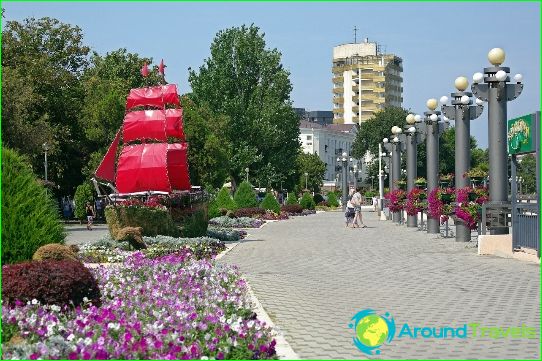 For children and adults, climatic and balneological, the Anapa resort is one of the most visited cities in Russia and a favorite vacation spot, where almost every inhabitant of our country has visited at least once in his life. For those who liked its sandy beaches and warm sea, the answer to the question of whether to book tours to Anapa next summer, there is only an affirmative.
History with geography
The geographical position of the resort town provides it with a comfortable microclimate and pleasant weather throughout the entire swimming season. The beaches in Anapa are pebbly and sandy, and the entrance to the water is flat and gentle, which allows the resort to be considered ideal for families with children, even the very early age.
The history of the resort began in ancient times, when the Sindi tribes settled in these places on the Black Sea coast, and then the Genoese. The further history of Anapa is connected with the Ottoman rule in the XV-XVIII centuries and the construction of a Turkish defensive fortress in the city.
Resort construction began in 1866, when the first equipped beaches and sanatoriums appeared, and continued actively after the Great Patriotic War. Today, in each summer season, tours to Anapa are bought by more than four million people..
Briefly about the important
The large airport of the resort allows to receive flights from various cities of Russia. You can get to Anapa both by rail and by road.
The length of all the beaches of the resort exceeds 50 kilometers. Tourists to Anapa can choose the beach cover according to their taste - a quarter of the coastline is covered with pebbles, the rest of the sea shore is sandy.
The city received the title of the best balneological resort of world importance according to FEMTEC.
The cheapest way to get around Anapa is by public transport. Buses and fixed-route taxis run at the resort in dozens of directions.
On Krymskaya Street, the city theater is open, where you can have a great rest after a busy beach day. History buffs can visit the Gorgippia Archaeological Museum. Its uniqueness lies in the fact that the main exhibits are real excavations of the ancient city of Gorgippia. Historians believe that it was from him in the IV century BC that modern Anapa began.
When booking tours to Anapa, you should pay attention to the prices for accommodation in hotels and in the private sector. In the summer season, they are the most significant, and with the onset of the calendar autumn they begin to decrease significantly. At the same time, the swimming season at the resort lasts until mid-October..
Photos