Season in Anapa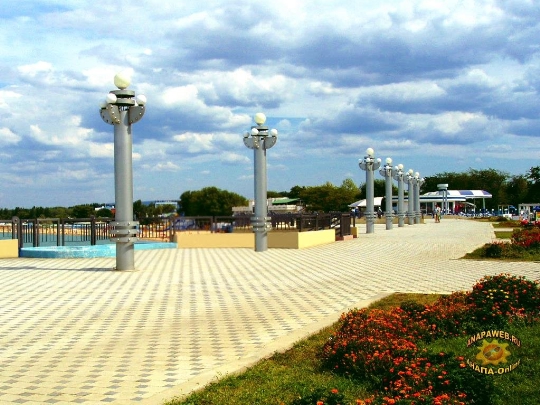 One of Russians' favorite holiday resort for the whole family is the city of Anapa, located on the Black Sea coast in the southwest of Krasnodar Territory. The beach season in Anapa begins in mid-May and lasts until the last days of October.
About weather and nature
The climate in Anapa is favorable for a beach holiday. The relatively low mountains surrounding the city do not allow the air masses to stagnate over the resort, and therefore there is no frequent precipitation and high humidity. Summer in Anapa can be called hot and long, and rather shallow coastal waters are warming up by the end of spring.
The average air and water temperature at the beginning of the season in Anapa is +23 and +17 degrees, respectively, but by the beginning of June the thermometers show stable +26 and +20 degrees. By the middle of summer, there is a real paradise for relaxing in Anapa with children. A gentle entrance to the sea, warm water, an arc of a sandy flat beach - all this allows you to comfortably sunbathe and swim. By August, the water warms up to +26 degrees, and in the air the thermometer columns often overcome the 30-degree mark.
To our smaller brothers
For those who spend their holidays here, the resort has many opportunities to diversify their leisure time. During the summer season, the only dolphinarium in Russia, located on the Black Sea, operates in Anapa. The lagoon on Bolshoy Utrish has become a home and a platform for performances of bottlenose dolphins and sea lions, fur seals and belugas. The performances are held six days a week, except Monday, and thousands of adults and kids become spectators every year. In addition to watching circus acts with the participation of tailed artists, visitors can swim with dolphins, buy souvenirs and save unique photos as a keepsake..
Velvet season in Anapa
In September, a pleasant time for relaxation begins for those who prefer comfortable temperatures, do not like extreme heat and feel better on the beaches that have been deserted since the beginning of the new school year. During the velvet season, Anapa invites you to participate in numerous sports and cultural events. Its beaches become a platform for windsurfing and kitesurfing competitions held in September, in which both famous athletes and those who are just taking their first steps in conquering the sea wave take part. A film festival is held in Anapa in autumn «Kinoshock», where masters from Russia and the CIS countries present their works.
Photos