Beaches in Krasnodar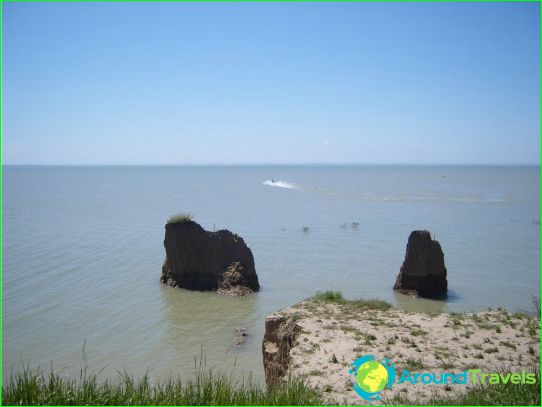 The Krasnodar Territory is not the first century a recognized resort, and this is especially true of its Black Sea coast. The climate of the region is milder than in the republics of Transcaucasia or in Turkey, so even those who are afraid of the great heat flock here to rest. And what is characteristic, unlike the same Egypt, here a resident of the Middle Strip feels comfortable even in summer, moreover, the swimming season here can open in April-May, and end already in October.
The Krasnodar Territory also has access to the Sea of ​​Azov. Once it was a closed freshwater reservoir, and only its connection with the Black Sea by its strait made the water slightly salty. The Sea of ​​Azov has incredibly shallow entrances to the water, and the bottom, as it enters the water, sinks very slightly. Sometimes you have to go 50 m from the shore to splash properly.
Many beaches in the vicinity of Krasnodar are located in bays, so there are no big waves, the water remains undisturbed, and therefore very transparent. Many of Krasnodar's beaches are pebbly, but most of them are covered with soft sand. Sometimes, in fact, it may turn out that the best sandy beaches of Krasnodar have become such thanks not to the beautiful natural landscape, but «master of nature», how a person felt in the USSR. It was then that river sand was brought to some pebble beaches by cars, if not trains, to improve the area, primarily for organizing children's recreation. Indeed, on beaches with large pebbles, always mobile children can easily get injured - hitting stones or just twisting their legs. But such a result of human intervention played into the hands of local camps, the capacities of which are successfully used in autumn and spring to accommodate adult campers..
In general, as beaches, locals and «savages» here they try to use almost every piece of the sea coast, and only the presence in a certain place of a port, a coastal frontier post, or a hydrotechnical structure can calm spontaneous vacationers.
The best resort places near Krasnodar:
Tuapse district.
Hot key.
Gelendzhik region.
Temryuk district (Black and Azov seas).
Sochi with adjacent districts.
Anapa is the absolute record holder for the number of entertainment.
There are incredibly beautiful places in the Krasnodar Territory, and this is primarily due to water. This is not only the sea coast, but also mountain waterfalls, falling from an incredible height. You can see these wonders of nature, for example, in the Arkhipo-Osipovka area.
Photos of Krasnodar beaches