What to do in Krasnodar?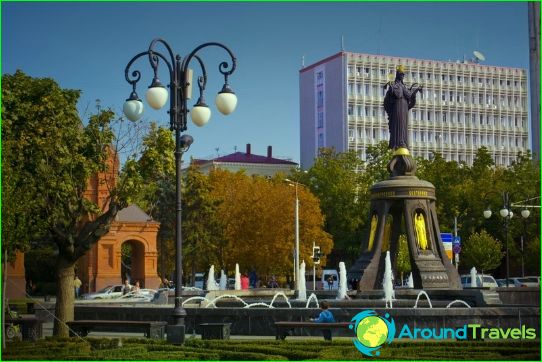 Krasnodar is famous for its many wonderful and interesting places for recreation. So, lovers of spending evenings in a cozy atmosphere can relax in numerous restaurants, those wishing to enjoy the most beautiful nature can realize their desire in the Botanical Garden, and art lovers can plunge into the world of beauty in museums..
What to do in Krasnodar?

Walk along the main street of Krasnodar - Krasnaya (most of the city's attractions are located here);
Admire the Krasnodar Fountain (in the evening it is illuminated and a real show begins);
Visit the park of the 30th anniversary of Victory and the open-air museum (Museum of military equipment);
Visit the Bodybuilding Museum "Samson".
What to do in Krasnodar?
It is worth starting your acquaintance with Krasnodar with a walk along Krasnaya Street - you can admire the Aleksandrovskaya Triumphal Arch, the temple-chapel of Alexander Nevsky, stroll along the Catherine Square and look at the monument erected here in honor of Catherine the Great. You can visit the inside of St. Catherine's Cathedral by going for a walk to Kommunarov Street.
And for a leisurely walk, you can go to the Kuban embankment. For the same purpose, you can go to Gorky Park or the Bridge of Kisses (this is a very romantic place).
Things to do in Krasnodar
Children should go to the oceanarium (there will be an opportunity to see a large collection of marine fish and mammals), water park "Equator" or "Aqualand", private zoo "Safari Park", The entertainment center is popular with young tourists. "Islands", where they can play in children's rooms, dry pools, climb slides, ride attractions, jump on a trampoline, climb into a labyrinth game complex, go ice skating on an indoor ice rink.
You can have fun with the whole family in the park "Sunny island", famous for 28 attractions, as well as cafes and restaurants. You can also play paintball and tennis (there are special playgrounds and a court for games).
It will be interesting for both children and adults to see flying birds and butterflies, as well as reptiles hiding in tropical plants. To see all this, you should go to the Butterfly Garden, which is located in the mall "Galaxy".
Extremals will like it in the park of the 30th anniversary of Victory - special areas are open for them here, on which radius and flat accelerating slides of different heights are installed.
Arriving in Krasnodar, you can combine business with pleasure, for example, rest with buying a car or with business meetings and attending conferences.
Photos where you can go in Krasnodar