Airport in Alicante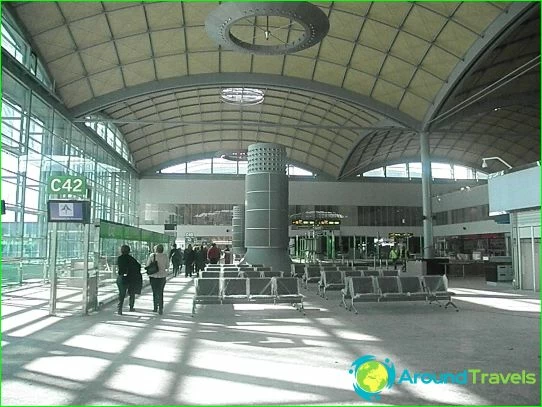 Alicante airport is located about 10 km southwest of the Spanish province of the same name. This airport ranks 6th in terms of passengers served per year, its passenger turnover is about 10 million per year..
The airport in Alicante cooperates with many airlines, and accordingly operates flights to various destinations. Ryanair, a large budget company, makes a large number of flights to various European cities - Paris, London, Barcelona, ​​etc. Russian airlines that cooperate with the airport include Aeroflot and Transaero.
Alicante airport has one runway with a length of 3000 meters.
Services
The airport in Alicante is ready to offer its passengers all the services they need on the road. For hungry passengers, there are cafes and restaurants on the territory of the terminal, which will serve the most delicious and fresh dishes..
If necessary, you can visit shops, for example, to buy souvenirs or other goods before departure.
In the zone after passing through passport control, passengers will find a convenient and comfortable waiting room. You can also access the Internet for free using Wi-Fi wireless technology..
Of course, on the territory of the terminal there are such standard services as a post office, ATMs, a first-aid post, a luggage storage room, etc..
Transport
Alicante airport is not so far from the city, so getting to it will not be difficult. All you need to do is take a bus on the C-6 route, which will take a passenger to the city in 30 minutes. The buses of this route start their movement at 6:50 in the morning and end at 23:00. The ticket price will be around 3 euros. In addition, you can get from the airport to other nearby cities, for example, Murcia, Elche, etc..
Another way of getting around is by taxi. Taxi services have fixed rates - 25 euros during the day and 30 at night.
Also on the territory of the airport there are companies that provide cars for rent. Therefore, you can get to the desired point on your own..
Photos Alicante airport