Beaches in Alicante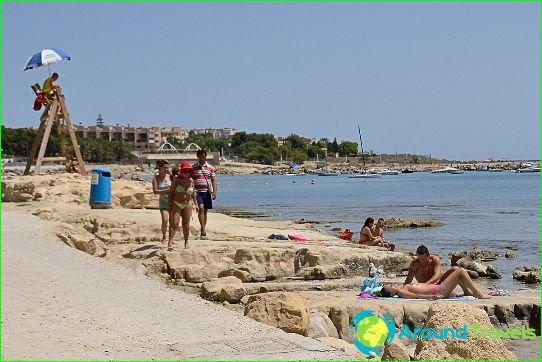 Alicante is a city serving as the administrative center of the province of the same name. It is also the main one on the coast, which is called the Costa Blanca, which means "White Coast". The beaches of Alicante attract many tourists every year. This is only one among the resort areas in Spain, located on the Mediterranean coast, and it is still not as famous among Russians as, say, the Costa Brava, but the British, Scandinavians, Germans, French and other inhabitants of Europe have been resting here for decades. The Spaniards themselves are also not averse to visiting this paradise coast. The best sandy beaches of Alicante - in our review.
Albufereta beach
A small sandy beach located in the northeast of Alicante, is located near the suburb called Albufereta. He took refuge from the big waves in a cozy 400-meter bay, in a quiet area surrounded by residential buildings. It is a very beautiful beach with golden sand and calm waters. It is 423 meters long and 20 meters wide. There are many playgrounds here, catamarans rental is organized, and it is quite shallow here, so resting on the beach with small children is in many ways safe.
There are also sports grounds here. The beach has a Blue Flag sign.
El Postiguet beach
In the very center of the resort of Alicante, at the foot of Mount Benacantil, famous for its castle of Santa Barbara, is the El Postiguet beach. It is also awarded the Blue Flag. There is amazingly clean white sand, an unusually picturesque embankment, which houses numerous cafeterias. Getting to the beach is easy, especially if you manage to settle down near the center. In addition to sunbathing and swimming on the beach, in its eastern part of Postiguet you can admire the spectacular fireworks competitions and laser shows, held during the San Juan festival, which falls on the end of June..
San Juan Beach
This is also a sandy beach, located in the suburb called San Juan de Alicante. You will be greeted by clean sand, and the waves here are moderate, and therefore the beach is great for families with children. There are cozy bars and restaurants nearby for adults, playgrounds for children. San Juan also has charming wooden walkways, showers, open sports fields, and rental umbrellas, sun loungers and sun loungers. In summer, cultural and sports events are not uncommon here..
This sandy beach is 2,900 meters long and 60 meters wide. It is located in a vibrant residential area. The fashionable embankment will be able to please any tourist who will surely find everything you need here..
Almadraba Beach
This beach is not so big: its length is 750 m, and its width is only 6. But here there is wonderful sand, a very shallow sea, so it is good to relax here with children. Waves rise extremely rarely, as this is a closed bay. The rental of sun loungers and umbrellas is also organized. But the most charming moment is the parking of small boats, both sailing and motor. And although because of them it is inconvenient to swim far, children are always interested in seeing this water transport.
Photos of the beaches of Alicante