Suburbs of Alicante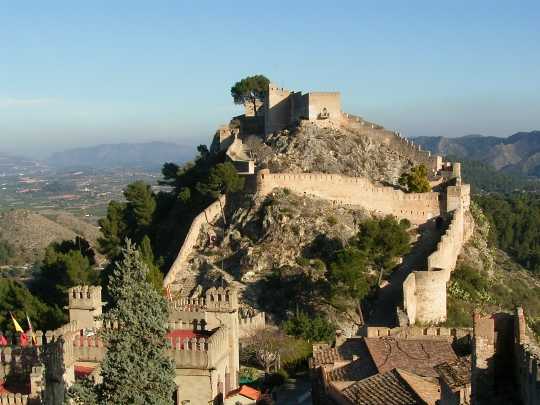 On the site of a small fishing harbor in the 3rd century BC, Hannibal's father, the commander Hamilcar Barca, founded a fortified settlement. This is how the future city of Alicante, the center of Spain's Mediterranean beach tourism, appeared on the map. The modern city is rapidly growing and developing, and now the suburbs of Alicante are becoming among travelers who decided to spend a vacation on the Mediterranean Riviera, no less popular than its historical center..
In blessed Khativa
A town steeped in history, little Xativa is a true gem in the Alicante suburbs. The first people appeared here in the Paleolithic era, as evidenced by archaeological finds on display in Spanish museums. The inhabitants of Khativa became famous for their crafts. Local souvenir shops still sell high quality linen and cotton clothes, and the type of paper produced in this suburb of Alicante even has its own name "hativi".
The tourist fame of Khativa has long stepped over its modest boundaries:
The artist Jose Ribeira, the most famous follower of Caravaggio and a significant Spanish engraver, was born in the city..
Xativa is the birthplace of two Borgia popes.
The city has preserved two magnificent medieval castles - the older Menor and the Major, built a little later..
The Cathedral of the Assumption of the Virgin Mary, built in the neoclassical style, contains hundreds of exhibits in the Collegiate Museum of Church Art.
The brightest and most unusual holiday in this suburb of Alicante is the Papier-mâché Parade before Easter. Throughout the year, residents of the town make paper sculptures, which are solemnly burned during the carnival procession..
Spanish Rio
Benidorm won the unofficial title of the capital of the Costa Blanca for a reason. The largest number of entertainment venues among all the suburbs of Alicante is concentrated here. Discos and restaurants, cafes and amusement parks, nightclubs and water parks - in the resort of Benidorm a traveler of any income and preferences will find a business to their liking.
In the old part of the suburb, there are preserved narrow medieval streets, whose width does not exceed the size of a spear, and cobblestone pavements, still preserving the sounds of knightly tournaments in the squares in front of the palaces of the nobility. The most authentic restaurants and souvenir shops are concentrated here, offering to buy gifts for friends and colleagues who have stayed at home..
Photos