Attractions in Barcelona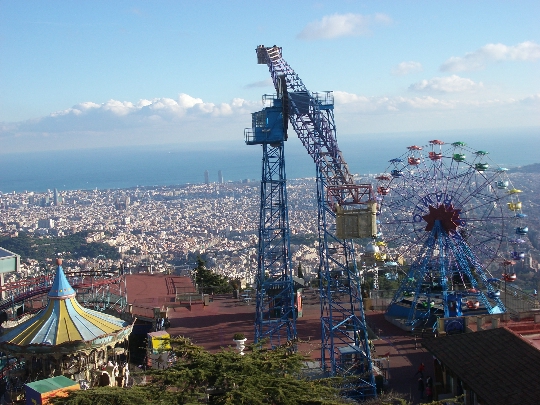 Millions of guests visit Spain every year, and tourism is a priority sector of the country's economy. The mild climate, warm sea, excellent cuisine, an abundance of interesting sights, the opportunity to find new friends from all over the world - these are the qualities that make Spain so attractive to visit. Well, if we talk about any specific place, then here, without any doubt, the palm can be given to the city of Barcelona. The variety of attractions in Barcelona is simply amazing, so a vacation here will never be forgotten..
If a tourist does not have the experience of visiting this city yet, it is better not to look for exotic things, but immediately go to popular tourist centers. They are conveniently located and the service staff are well trained to deal with foreign tourists..
Tibidabo amusement park
The undisputed leader in the list of entertainment centers in Barcelona. First of all, it is notable for the fact that it is located on the top of a 500-meter mountain, and therefore here you can not only have good fun, but also take vivid pictures of the species as a souvenir. There are more than 25 attractions here, as well as many theatrical performances and various competitions..
An adult ticket costs 25.20 EUR, a child ticket - about 20 EUR. You can also pay an additional 11.10 EUR per adult and 7 EUR per child to get access to the Tibidabo Sky Walk mini-amusement park. At the moment, the park does not have an exact timetable, so it is better to check the information in advance on the official website www.tibidabo.cat.
Catalonia in miniature
Catalonia in miniature is a unique amusement park. In fact, this is nothing more than the real Catalonia on a scale of 1:25, covering an area of ​​25 square kilometers. First of all, it will be of interest to lovers of active pastime, since the best cable cars in Barcelona, ​​rope ladders and other devices for extreme recreation are located here..
Opening hours: July-August - 10.00-20.00; March-June, September - 10.00-19.00; October-February - 10.00-18.00. Ticket prices are 11 EUR for adults and 8 EUR for children. Official website: www.catalunyaenminiatura.com.
Port Aventura
Although this amusement park is located some distance from Barcelona, ​​it is also one of its most famous attractions. At the moment, it occupies 117 hectares of area, is divided into 6 thematic zones and offers visitors more than 40 attractions. In addition, the park also has beaches, golf courses, water parks, hotels, and numerous cafeterias and restaurants. So, this place is also ideal for family holidays..
Photos