Where to eat in Barcelona?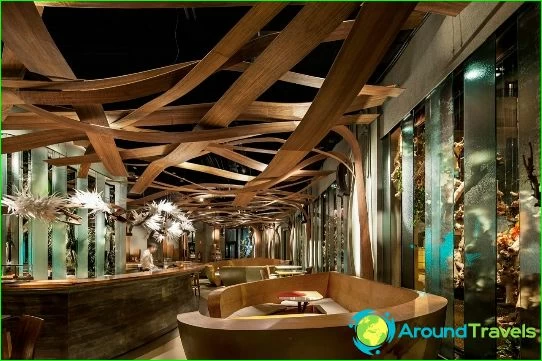 Wondering where to eat in Barcelona? This city has over 2,000 restaurants where you can taste Spanish and Catalan culinary delights.
You should definitely try a variety of snacks (tapas) made from pieces of meat or fish, nuts and other ingredients. A great addition to such snacks will be beer or other drinks. From the main dishes on the menu of local cafes and restaurants, you will find potato tortilla, fried salmon, Catalan paella, cold gazpacho soup ...
Where to eat in Barcelona cheap?
You can eat inexpensively in cafes and restaurants located on the streets of the Gothic Quarter, in establishments near Plaza Catalunya (at your service - Chinese food, European and Catalan dishes).
It is worth considering that you can find inexpensive establishments in places located further from the center. For example, in the Santa Coloma area, you can order a full meal for 9-10 euros. If your goal is to save on food, then it is advisable for you to look at restaurants with "menu of the day" or "business lunch" services (from 12 euros).
In Barcelona, ​​you can eat tasty, satisfying and inexpensive food in chain restaurants operating on the principle of a buffet: by paying a fixed price, you can take a tray and choose any dishes for yourself (2-3 soups, salads, meat or seafood dishes, dessert, drinks) ... So, you can go to Fresc Co, where lunch will cost an average of 10-15 euros. Or you can visit the interesting Dao Kaitensushi buffet - here you can choose your favorite dishes (seafood, salads, fruits, desserts) presented on a moving conveyor.
Where to eat delicious in Barcelona?

Can Eusebio: This restaurant will delight you with a wide selection of tapas at attractive prices. In addition, here you will be offered to taste squid, chicken wings, "Secreto de Cerdo" cold cuts, sangria (the cost of most dishes is from 4-4.5 euros, and beer - from 1 euro).
La Cova Fumada: in this small restaurant you can taste a variety of fish and seafood dishes.
Savigivi: this cozy restaurant invites its guests to taste Spanish, Mediterranean and Argentinean cuisine.
Mosquito: in this place you can enjoy Chinese and other oriental dishes and snacks, as well as various types of beer (Belgian, Spanish, American).

Gastronomic excursions in Barcelona
If you wish, you can organize a walk along the streets of Born - this quarter is famous for bars, old cozy taverns, gourmet shops, numerous pastry shops and cafes. There is even a Chocolate Museum. Going on such an excursion, you can not only taste national dishes in local establishments, but also taste wine in the basement of a delicatessen store.
Resting in Barcelona, ​​you will not be hungry, because here you can find many restaurants with a varied menu and attractive prices..
Photos