Barcelona in 2 days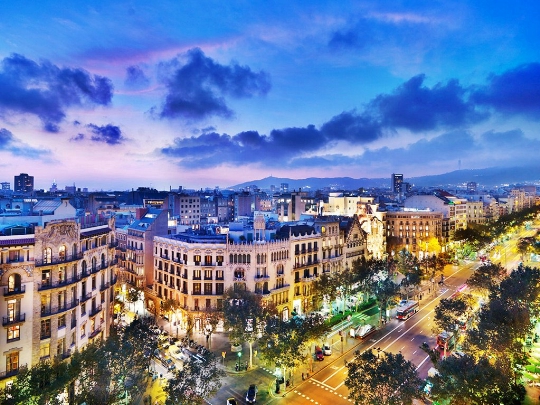 Spanish Barcelona is familiar to many tourists as one of the most colorful European cities. It is multifaceted and interesting, and a couple of days will not be enough for a detailed acquaintance with it, but even "Barcelona in 2 days" is an excellent option for the first acquaintance with the city where Picasso, Gaudí and other brilliant creative personalities worked.
Holy Family
It is no coincidence that the Sagrada Familia Cathedral is considered the symbol of Barcelona. Everything in it is unusual and grandiose, and therefore it is the Sagrada Familia and its observation deck that is the first place where a Barcelona tourist aspires to visit. Judge for yourself, the cathedral is truly unique, and the facts are a stubborn thing:
The construction of the temple has been going on since 1882, and nine years after the start of the construction was headed by the famous Antonio Gaudi.
The architect worked on his beloved brainchild for 43 years.
The height of the towers, according to Gaudí's idea, will exceed 100 meters. In total, 17 of them are planned, of which the tallest, 170-meter high, will be dedicated to the Savior, four - to the evangelists, and the rest - to the twelve apostles.
The long-building temple is the only one in the world included even unfinished in the UNESCO World Heritage List.
A great place to admire Barcelona is the observation deck on the Nativity Facade tower, where a spiral staircase leads.
In the footsteps of Antoni Gaudi
But Barcelona in 2 days is not only the Sagrada Familia, but also the Park Guell, where amazing structures and architectural masterpieces are spread on 62 hectares of land under the shade of shady trees. Here Gaudi created his famous bench and made an almost living mosaic lizard. Cute fairy-tale houses attract children, and adults are returned to a tender age for a short time. For Güell himself, Gaudí built an unusual palace, which, like the Mila house, called the "Quarry", is now protected by UNESCO and is certainly visited by all tourists..
By the way, an option for a sightseeing tour may well be a trip on a tourist bus, which passes all the most famous places in Barcelona. At the stops there is an opportunity to get off, walk, and then continue on the next bus.
Picasso and the old town
During your 2-day visit to Barcelona, ​​you can schedule a visit to the Pablo Picasso Museum in the Old Town. As many as five buildings are occupied by a huge exposition of the artist's works, and the buildings themselves are ancient architectural monuments. Rue Moncada contains more than 3500 works of the great genius who gave the world Cubism and the most ingenious creations in this genre..
Barcelona

Photos