Holidays in Barcelona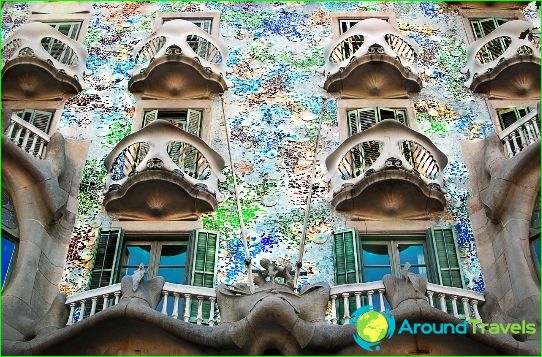 Holidays in Barcelona are an opportunity to plunge into the cultural atmosphere of the city and enjoy the wonderful Mediterranean beaches.
The main activities in Barcelona

Excursion: excursion programs include walks in the Gothic Quarter and Ramblas, visiting the Sagrada Familia, visiting Casa Batlló, the Cathedral, Gaudi House, Park Guell, Egyptian and Maritime Museums, Picasso Museum, Aquarium.
Active: travelers can play golf, hike or bike in scenic natural places, have fun at parties in the clubs "Bar Pastis", "Moog", "Marsella", go rafting, take a flight in a hot air balloon or in a wind tunnel, paragliding, going on a night sea fishing.
Eventful: a trip to Barcelona should be prepared for the celebration of the "La Merce" Festival (September), the Carnival with a solemn parade and costume procession (February-March), the Spring Festival (May), the National Day of Catalonia (September 11).
Beachfront: you should stop at Barseloneta Beach (you can get here from the city center by tram, metro or on foot) - this long and welcoming beach has showers, bars, sports grounds, life towers, a rental point (rent of umbrellas, sun loungers and other beach equipment ). For vacationers with disabilities, the SanSebastian beach is excellent: guests can use comfortable showers and toilets, as well as paths in the sand. And couples should take a closer look at the NovaIcaria beach - in addition to the standard arrangement, it has an area for children's games, volleyball courts, and a ping-pong table. As for nudists and active youth, they can relax on the Mar Bella beach: conditions for windsurfing and kayaking are created on this nudist beach..
Prices for tours to Barcelona
Travel managers recommend visiting Barcelona in May-June, September-October. When buying tours, it is worth keeping in mind that in summer the prices for tours to Barcelona increase by 1.5-2 times. In addition, you should be prepared for an increase in the cost of tours to this Spanish city for the New Year holidays, Easter and during national holidays. To buy more affordable tours to Barcelona, ​​it makes sense to plan a vacation here in the low season (November-March).
On a note!
To keep abreast of upcoming cultural events and excursions, you should buy the GuiadelOcio newspaper (sold at newsagents) upon arrival in Barcelona..
Those planning to visit cafes and restaurants should know that it is not necessary to occupy any free table, but the one that the waiter will indicate (regardless of the level of the institution, it is customary to leave a tip in the amount of 5-10% of the order amount). Please be aware that smoking is prohibited in public areas, but large shopping malls and restaurants provide designated smoking areas for their guests.
Memorable gifts from Barcelona can be castanets, wine and sherry, olive oil, Spanish lace, ceramics.
Barcelona

Holiday photos in Barcelona