Madrid shops and malls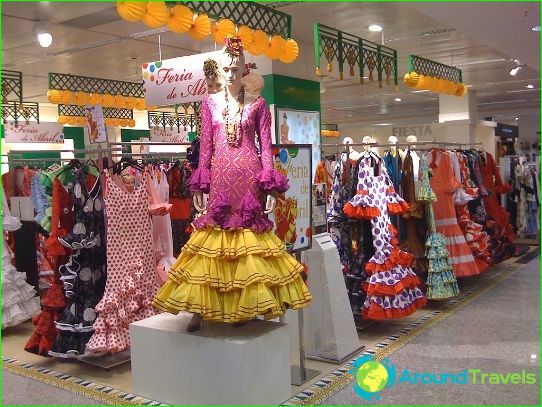 The capital of Spain is a great city for shopping. It is not as popular with tourists as Milan, Paris or Barcelona. Rather, this is due to a certain preponderance in Madrid stores towards local, Spanish designers. The knowledgeable buyer, on the contrary, sees this as a plus. Spanish fashion designers often show their exclusive items in Madrid. After January 10 or early July, prices become so low that the number of purchases can be measured in kilograms. Moreover, in small shops, sales may begin earlier. So the discount season will stretch out and provide a lot of opportunities.
Popular outlets in Madrid

Shopping centers are the most attractive for tourists. Medium-sized wallet owners will love the El Corte Ingles and Factory chains. The first can be found in the city, and the second has chosen the habitat of the outskirts of Madrid. For those who prefer luxury brands, the Salamanca area with Serrano street is suitable. In this area there are representative offices of fashion houses of Spain. The same assortment, but released a year earlier, can be found in a country chain outlet, a kind of shopping village Rozas Village.
Jewelry by Spanish craftsmen will be a wonderful gift for a loved one. There are many jewelry boutiques on Serrano street, for example, the purely Spanish brand Carrera Y Carrera offers a unique design of its jewelry: many pendants, rings, brooches are made in a single copy.
You can buy a piece of sunny Spain - its wine - at any grocery store. But if you want to devote a little more time to wine shopping, choose with feeling, sense, arrangement and tasting, go after shopping for shoes from Prada or something from Armani to the specialized boutique LAvinia. This store is located in the Salamanca region and offers thousands of wines from Spanish, French, Chilean, Australian and even African producers to select and taste..
Mariano Madrueno is the most famous old wine shop in Madrid, located next to the Carmelite monastery. It is not easy to navigate the variety of bottles and barrels here. You will need the help of a local specialist. The store is very remarkable: some aristocrats keep their wine stocks in its cellars for a fee.
The Rastro Flea Market is open in Madrid on Sundays. You need to get off at the Tirsa de Molina metro station and then down the hill along Ribera de Curtidores street. At first glance, the market resembles an ordinary flea market, but among the stalls you come across very interesting old things. When looking for antiques, pay special attention to the right side of the street, if you go down it down the hill, this is where you can find the most unusual goods..
Photos of Madrid shops